Why are BS Accounting and Finance Graduates on the Rise in Pakistan?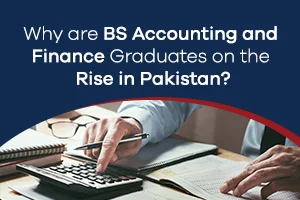 Are you thinking about choosing BS accounting and finance for your bachelor's? But do you know how widespread it is in Pakistan and around the world? You have come to the right place. I will explain why it is one of the most popular careers and why you should pursue it.  
What is BS Accounting and Finance? 
A BS Accounting and Finance is an undergraduate degree program created to provide students with a strong foundation in finance and accounting, two subjects that are crucial to the operation of any company or organization.  
Graduates of this program will acquire managerial and executive-level professions. Evaluating finances, businesses, and management are all part of accounting and finance.  
Accounting  deals with information analysis for many business functions, whereas finance is just concerned with an organization's financial resources. Accounting is a huge, complex, and critical aspect of an organization, thus strong financial management is crucial for the company to continue developing and long-term sustainability. 
What Subjects Do You Study in BS Accounting and Finance? 
Different universities in Pakistan offer courses in accounting and finance. Every institute designs the curriculum according to its goals and requirements. However, some are the basic subjects that you must be studying through your BS accounting and finance degree. 
I have devised a list of the fundamental subjects: 
Financial Analysis

 

Advanced Taxation

 

Principles of Marketing

 

Research Methods in Business

 

Advanced Audit & Assurance

 

Advanced Corporate Reporting

 

Retail Supply Chain Management

 

Enterprise Resource Planning Fundamentals

 

Human Resource Information Systems

 

Business Model Development & Innovation

 

Power & Politics in Organization

 

Organizational Behavior

 

Business Analysis

 

International Strategic Management

 
Why is There an Increase in BS Accounting and Finance Graduates?
The scope of BS Accounting and Finance is rapidly expanding in Pakistan. That is why many students are pursuing this field. A degree holder can easily find employment with a decent salary package in any: 
Auditing and accounting firm

 

Tax department

 

Regional and international company

 

Insurance company

 

Local or foreign bank
The field of accounting and finance is diverse and broad, combining numerous divisions and fields. Additionally, it is among the highest-paying jobs in Pakistan. Additionally, the scope can be determined by comparing the current pace of open positions to other recruitment. Accounting and finance's pay and career standards are more attractive and respectable, resulting in a flourishing career in Pakistan. 
BS Accounting and Finance Career Prospects
As I said before, employment after BS accounting and finance in Pakistan offers the best opportunities for students to start a career in this sector. I have made a list of jobs that you can apply for after earning your BS in accounting and finance. You can apply for the following positions in a wide variety of governmental and private organizations as well as banks. 
Accounts officer

 

Finance manager

 

Accountant

 

Taxation officer

 

Senior accountant

 

Junior accountant assistant

 

Internal auditor

 

Manager recovery

 

Cash officer

 

Finance assistant

 

Compliance manager

 

Cost analyst

 

And many more. 

 
Salary Range of BS Accounting and Finance Graduate
The typical monthly income for someone working in accounting and finance in Pakistan is 84,200 PKR. The lowest average pay is 34,100 PKR, while the highest average salary is 169,000 PKR.  
This typical monthly wage includes housing, transportation, and other benefits. Various Accounting and Finance occupations pay significantly differently.  
BS Accounting and Finance Admission Requirements
If you want to pursue this field, the following are the admission criteria for BS accounting and finance:  
You must pass your intermediate or equivalent with a minimum 2nd division

 

Although ICom students are preferred for this degree, those with ICS and FSc are accepted by practically all universities.

 

If a student has done FA as intermediate studies, he/she must choose accounting and finance as electives.

 
A-level students are also eligible to apply; however, they must bring the NOC issued by the IBCC Islamabad.

 
Which Institute to Choose for BS Accounting and Finance Degree?
There are several universities offering this course. However, if you want to earn a degree from the best institute in town, then the University of Central Punjab is a perfect choice. Why? 
UCP does not only offer an extensive BS accounting and finance program but the program is also taught by highly qualified faculty. You will gain practical exposure along with theoretical knowledge. We offer every educational facility, including well-equipped classrooms, laboratories, a library, a sports complex, and a well-balanced campus life.  
For more information, you can either visit our official website or contact us at info@ucp.edu.pk.  
Thank you for reading. Do not hesitate to ask any questions.