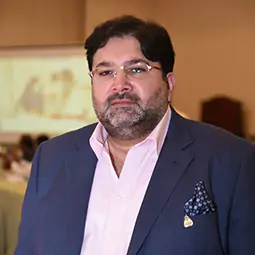 Mr. Khawaja Shahzeb Akram
Senior Vice President, FPCCI
Nominee of the President, FPCCI
Khawaja Shahzeb Akram is the Senior Vice President of Federation of Pakistan Chamber of Commerce and industries. FPCCI. In this vital role of his professional responsibilities he is the voice of the business community of Pakistan. Khawaja Shahzeb Akram is also performing his obligations as Chief Executive Officer of M/s. Pharma Health Pakistan (Pvt) Ltd. since 2005 when this company started its operations in Pakistan. Initially he started his career as the Vice President of M/s. Mass Pharma (Pvt) Ltd., a vital component of Khawaja Group of Companies and a leading pharmaceutical Company in Pakistan. He has pledged a new venture in United Kingdom as The chairman of DERRESTHETIC UK LTD which is the worlds' leading dermatological company with ambitious plans around the globe. Mr. Shahzeb Akram is the Director of M/s. Gallop Water Sciences (Pvt) Ltd., an I.V. Solution manufacturing company. He is serving as the Director of M/s. S.J&U Enterprises, the leading national Supply Chain of pharmaceutical products in Pakistan. Khawaja Shahzeb Akram is also the Member of Pakistan Drug Testing and Research Center, PDTRC.
Despite of his business engagements, he is an active member of a number of trade and commerce organizations where he is representing the business community in a very professional manner.
Khawaja Shahzeb Akram is the EC member of the SAARC Chamber of Commerce and Industry whereby he has many a contributions to his credit for the business community and the challenges faced during the recent surge of Corona pandemic. He is the most capable personality to deal with the challenges of Dermatology and pharmaceuticals industries as he has been elected as the Chairman of APDC for numerous times. He has been the President of Business Community's Professional Wing of Lahore. To make the voice of Business Community audible, Kh. Shahzeb Akram was awarded the challenges of Business Man Panel as the Chairman Punjab, Rose to the challenges in a befitting manner. Mr. Shahzeb Akram has been served as the Vice Chairman PIAF (The Pakistan Industrial and Traders Association Front). He is also been the Chairman of FRIA (The Ferozpur Road Industrial Association). Mr. Shahzeb Akram is the Senior Vice Chairman of Pakistan Business Forum and has been actively involved in the developmental activities at both corporate as well as government levels. He is also the member of SAARC Chamber Young Entrepreneur Forum (SYEF). In acknowledgement of his professional Services, the Turkey Business Community has conferred upon Khawaja Shahzeb Akram the MECC AWARD which shows his corporate efforts being appreciated in the world trade with a special eye on the international horizon. He is member of Royal Palm Golf & Country Club. Besides all the business responsibilities, Khawaja Shahzeb Akram is an active member of world largest social welfare organization, Lions Clubs International having it's headquarter in Chicago, USA and operative in more than 200 countries of the world.
Khawaja Shahzeb Akram has a very busy life style and always finds some difficult tasks to achieve in a befitting manner. His life is a continuous struggle from a high tech and sophisticated component of Pharmaceuticals business to the high impact all heavy industries' levels as a true representative of all such diligences. He is an untiring personality with rendezvous to destiny strongly accompanied by his team and leaders with his lion share as a contributor to the success. He is a resilient business man with a very soft heart to the community needs and issues and always spares the best of his time for his people all around the country.