All You Need to Know About Associate Degree Programs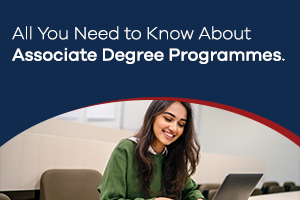 The associate degree program (ADP) is a two-year undergraduate program offered by various private and public universities. It is a post-intermediate academic degree that focuses on a specific field chosen by the students. These degree programs are equal to a Bachelor's Degree (B.A. or B.Sc.), requiring 14 years of study. 
The University of Central Punjab (UCP) has taken the initiative to provide Associate Degree programs in a variety of areas. Our ADP follows the Higher Education Commission (HEC) guidelines.  
In addition, we offer a market-driven curriculum and top-notch teaching methods. Our ADPs are skill-oriented and specifically designed to prepare graduates for early entry into the work market or to become entrepreneurs.  
UCP's Associate Degree Programs
The University of Central Punjab has replaced the conventional two-year annual programs with its remarkable ADPs. How? We have introduced a market-driven curriculum along with top-notch teaching methodologies to help students prepare for and achieve their professional goals.  
The following are the associated degree programs that UCP offers: 
The course highlights the essential areas of various accounting and financial management components within a commercial world.  
The goal of the Associate in Business Administration program is to give students a thorough knowledge of the current social, economic, and political circumstances that impact the world of business. 
The course covers topics including analyzing, structuring, designing, testing, executing, and monitoring computer applications and projects. 
You will graduate from the Science Associate Degree Program with a strong understanding of theories, principles, and analytical techniques. 
The ADS Zoology, Botany, and Chemistry provide you with an in-depth scientific understanding of evolutionary processes, behavioural patterns, and animal and plant features.  
Alluring Features of UCP's Associated Degree Programs
UCP ensures you receive premium education along with every educational facility. However, to make sure that you are fully prepared when you step into practical life, we have devised our ADPs accordingly.  
These are the facilities you will benefit from when you join UCP for your associate programs.  
Experienced Faculty
While on your journey at UCP, you will be studying under the supervision of highly experienced faculty. We have a total of 602 faculty members who are graduates of prestigious institutes. Thus, you will be learning from the best in town.  
Transferrable Credits
One of the most amazing features of our ADPs is that if you ever decide to opt for a four-year bachelor's degree, you can transfer the credit hours from your ADP. Thus, you will not have to study for another four years to have a BS degree in your desired field.  
Affordable Education
You must be thinking that these associated degree programs must be very expensive. We have good news for you. Our ADPs are affordable and easy on the pocket. Thus, you do not have to worry about spending a buttload of money to gain a high-quality education.  
Societies and Clubs
To provide you with vibrant and memorable campus life, UCP offers multiple healthy and engaging activities. We have 61 societies and clubs that you can join to partake in events that take place at UCP.  
Libraries and Labs
To help you gain hands-on experience in your desired field, UCP has state-of-the-art laboratories. You can perform experiments and apply theoretical concepts to have practical exposure. In addition, we have fully stocked libraries with textbooks, encyclopedias, journals and much more. You can always go to the library and prepare for your assessments in a peaceful environment.  
Scholarships
When you enrol in an associated degree program, you can apply for scholarships. We offer merit-based scholarships to deserving students. In addition, if you have done your intermediate studies at the Punjab Group of Colleges, UCP offers a 50% scholarship to PGC students. Isn't it great? 
The scholarship criteria are as follows: 
Marks in FA/FSc

 

Scholarships

 

75% Marks in FA/FSc

 

100%

 

70% Marks in FA/FSc

 

75%

 

65% Marks in FA/FSc

 

50%

 

60% Marks in FA/FSc

 

25%

 
Student Teacher Ratio
Unlike other institutes, where there are hundreds of students in a class and teachers cannot pay attention to students. We have maintained a 25:1 student-teacher ratio so that our professors can evaluate each student's preparation.  
Career Opportunities
With our associated degree programs, you will have multiple career doors open for you. whether you want to enter the education sector, administration, or network companies, you will be trained to meet the required industry's expectations. 
Similarly, if you want to live your dream of working in laboratories or pharmaceutical industries, you can do so by joining our ADPs.  
The Final Word
Are you thinking of doing a two-year post-intermediate degree instead of a four-year bachelor's course? Then the University of Central Punjab is the best option for you. you can join us and embark upon a journey of success and excellence.  
For more information, you can contact us at info@ucp.edu.pk.