Apply to UCP's Spring 2023 Online Admission Now!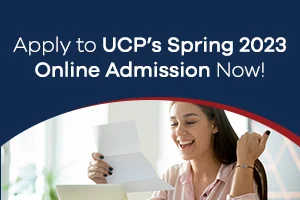 Is it difficult for you to go to the University of Central Punjab's campus and get yourself enrolled? We have the solution for you. You can now apply to UCP's spring online admissions for 2023 from your home. Isn't that great?
UCP has aimed to provide its students with a quality education that will lead them to conduct research, make breakthroughs, increase employability, and encourage them to pursue their entrepreneurial goals. Consequently, UCP's main objective is to create a society of individuals who will have a positive social impact and serve the nation and the world.
So, do you want to be part of UCP's community and help us in making our country fight the modern world challenges? Well, apply to spring online admissions for 2023 and play your role in making this world a better place.
What is The Procedure for Applying to Spring Online Admissions? 
The University of Central Punjab offers a wide range of bachelor's and postgraduate courses, including Master's, MPhil, and PhD programs in various fields. You can select the courses of your choice, benefit from the online admissions policy, and start your journey at UCP right now.
If you have never enrolled yourself online anywhere, then you must be wondering if it is a difficult process and you will not be able to do it. Well, it is quite simple. I am going to explain it. Keep reading to find out.
Here is how you can apply to UCP's spring online admissions for 2023.
Go to UCP's official website. Click on this link https://ucp.edu.pk/.
You will see an "Apply Online" icon on the right side of your screen.

Click on that icon and a new page will open showing all the courses available.
Select the course of your choice and scroll down.
At the bottom end of this page, there will again be another icon with the title "Apply Now." Click on this button.

The online admissions page will open in front of you.
There will be two options:
– Login
– Click on the Create Your Account. Choose this option if you do not already have an account.

Fill out the required information including your name, email, CNIC, and cell phone number. And submit the form.

You will receive an email containing your Username and Password.
Add this information to the online admissions and log in to your account.
You can submit the application processing fee online or through a bank transfer. Similarly, you can also pay the fee by going to the UCP's Admission Office.
After logging in, fill out the online admission form and submit it.
You will receive the reference number, admission test date, and interview date from the university.

The merit list will be displayed later and UCP will notify you via email or SMS.

If you are selected, you can submit the dues and start your academic journey at UCP.
So, the procedure is simple, just follow the instructions and applying to online admissions for 2023 spring will be a piece of cake for you. we have explained how you can apply to UCP spring online admissions for 2023.
Now comes the question of why you should choose UCP for your undergrad or graduate studies. Here is why.
Top 6 Benefits of Choosing UCP
There are so many benefits that you will have if you choose UCP for your bachelor's, master's, or even a Ph.D.; these include:
1. Purpose-Built Campus
You will be studying on a well-furnished campus with every educational facility available to facilitate your journey, including fully furnished classrooms, cafeterias, an auditorium, a webinar room, a sports complex, etc.
2. Qualified Faculty
Highly qualified teachers with years of experience in their respective fields will be there to teach you and guide you throughout your academic and professional years.
3. Advanced Labs and Library
You can benefit from state-of-the-art labs and a fully-stocked library anytime you want. This will help you prepare for your final exams and also for your practical life, as you will have more practical exposure.
4. Campus Life
There are so many societies and clubs that you can join and have a well-balanced and vibrant campus life. You can explore your hidden skills and talents and work on your self-development.
5. Girls' Hostel 
For female outstation students, this facility is available. You can secure your spot in the girls' hostel. The hostel is built in a way to provide you with comfort and makes your stay secure and pleasant.
6. Scholarships 
UCP also provides its students with different scholarships and incentives to honour our students and reward the hard work and effort they make to produce excellent results. So, you can apply for a need-based or merit-based scholarship. There are also other incentives that you can apply. Visit this link.
UCP Spring Online Admissions 2023 Are Open! Apply Now. 
Now that you know the whole procedure for applying for online admissions and why UCP is the best choice for your bachelor's, what are you waiting for? Apply right now and be a part of our growing community.