Bachelor's of Computer Science in Pakistan: Subjects, Scope, and Career Outlook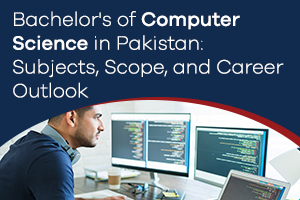 A Bachelor's of Computer Science in Pakistan is one of the most sought-after degrees in the country. Why? Everything we see or use around us now is a product of computer science or advanced computing technology.  
This includes everything from smartphones, smart air conditioning, smart refrigerators, electric cars, and automated security systems. 
In addition, BSCS has resulted in the fast advancement of technology. Due to the widespread use of cutting-edge technology for research and information exchange, computer science graduates can significantly impact the lives of millions of people worldwide. 
What is BSCS in Pakistan?
The Bachelor of Computer Science in Pakistan is a four-year course program that focuses on various topics utilized in the creation of advanced computer systems. For example, the Bachelors of Computer Science program will teach you the basic framework of computers. 
In addition, the BSCS course will equip you with fundamental to advanced knowledge along with the required skills for software and computer hardware. Additionally, it will offer you a variety of programming paradigms through various subjects that you will study throughout your course.  
BS Computer Science Subjects
If you are wondering what subjects you will be studying throughout your four-year journey, don't worry, we have you covered. The BSCS course is designed in such a way that you gain knowledge as well as practical experience. As a result, you will be ready to enter your practical life fully prepared.  
Thus, the following is the list of BS computer science subjects: 
Digital Logic Design

 

Calculus and Analytical Geometry

 

Object Oriented Programming

 

Discrete Structures

 

Probability and Statistics

 

Data Structures and Algorithms

 

Software Engineering

 

Operating Systems

 

Design and Analysis of Algorithms

 

Artificial Intelligence

 

Computer Communication and Networks

 

Professional Practices

 
After the completion of your degree, you will have multiple career opportunities waiting for you. You can opt for any profession that you find interesting in the field of technology. And because technology is everywhere, the scope of BSCS is very high in Pakistan and worldwide.  
Scope of BSCS in Pakistan
In Pakistan, there is a significant and growing demand for computer science graduates. In Pakistan, the BS computer science scope is quite broad. The wide range includes: 
Web development

 

Networking

 

Database management

 

Programming

 

Software engineering

 

Systems analysis

 

Design

 
So, as a graduate with a BS in computer science, you can work in a variety of fields, including: 
IT service providers

 

Banking

 

Finance

 

Telecommunication

 

Manufacturing

 

Aerospace and defense

 

Agricultural

 

Financial services

 

Healthcare

 

Public and third sectors

 

Retail

 
Career Outlook for BSCS in Pakistan
After four years of education in a bachelor's of computer science in Pakistan, you will be well prepared to take on any computer-related technical profession. However, the following are the most typical careers for you as a computer science major: 
1. Software Developer
You will develop the apps for our phones and tablets in addition to the software we use to operate computer programs. Additionally, you will acquire in-depth knowledge of computer languages. This will enable you to write the codes for websites, video games, software, and other products. 
2. Video Game Developer
With a BSCS degree, you can work as a video game developer. You will be responsible for developing the games that people play on Facebook, on tablets and phones, on gaming consoles, and PCs.  
3. Product Manager
You will assist with the creation of a product through its complete life cycle, from conception to release or beyond. In addition, you will make important decisions about the product, coordinate with all necessary parties, and meet deadlines stated on the product roadmap. 
4. Data Scientist
Data scientists gather massive amounts of data and help translate it into something usable. For example, as a data scientist, you will turn the data into insight and use it to find out how people perceive a specific product. You will do this by creating systems that allow data to be collected, stored, analyzed, and utilized. 
5. Cybersecurity Analyst
These specialists in computer science have received specialized training to deal with the threats that hackers and Internet spies pose to the world's information systems. When you work in cybersecurity, it's your responsibility to identify potential data breach sites and determine how to address a breach when it has already happened.  
6. Database Administrator
The database administrator is responsible for managing the database of a company. You will ensure that the data is readily available, clearly specified, and accurate. Additionally, as a database administrator, you must have a strategy for data recovery in case it becomes necessary.  
UCP: The Best University for BSCS in Pakistan
Now comes the question "where bachelor's of computer science in Pakistan be studied?" The University of Central Punjab personifies the word "best institute for BSCS." We'll tell you why. 
Our BSCS program fulfils all new software industry expectations and has been authorized by Pakistan's Higher Education Commission (HEC). Furthermore, the course curriculum provides a wide range of courses that aid students in becoming knowledgeable in computer applications, current theoretical parts of computer science, programming methodologies, and effective technology application. 
So, avail yourself of the chance and enrol at UCP.