Become a Tax Professional with BS Audit and Taxation in 2023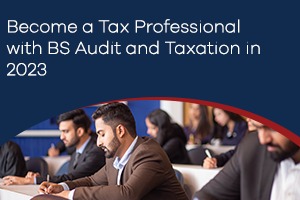 Tax and Audit are the two professions routing from accounting. Hence, if you are interested in accounting and are willing to become a tax professional or auditor in your professional life. Then, we have great news. The University of Central Punjab (UCP) brings a four-year program to prepare students for this ever-evolving, rich, complex and exciting field for the future years to come. This BS Audit and Taxation is offered at UCP Fall Admissions 2023. Read this article and clear any confusions you may have.  
Brief Intro to Audit and Tax 
Taxes are a compulsory part of the government's money collection procedures. Different people, for their different income stages, have different tax slabs and ratios of tax to be submitted to the national treasury. In addition, the procedure to check the monetary matters of any individual, firm, or organisation is a procedure of auditing.   
Both these lines are a part of finance and closely related to accounting procedures. Therefore, both hold a massive scope in Pakistan and abroad. Hence, if you have any interest in accounting and finance, you can opt for BS in Audit and Taxation from UCP, Lahore.  
Earn BS Audit and Taxation from UCP 
Fulfilling the regulatory requirements of the higher education commission (HEC), the University of Central Punjab (UCP) offers a four-year degree program in tax and auditing as BS Tax and Auditing. The course is subdivided into eight (8) semesters. The course has an extensive collection of subjects. The entire course is divided into compulsory, foundation, core, and specialisation courses.  
Furthermore, UCP also includes internships, projects, and community services during the course of studies. This enables students to become more aware and empathic towards societal problems and crises.  
The BS Audit and Taxation curriculum includes management, entrepreneurship, finance, taxation, analysis and many more subjects. You can have a detailed look here.   
Criteria Pre-requisites for Admission 
The students who fulfil the following criteria stand eligible for BS in Audit and Taxation at UCP.  
At least 45% marks or 2nd division in F.Sc./FA/I.Com./ICS/A level or equivalent. 
Career Dimensions after BS Audit and Taxation 
Once you have completed the BS Audit and Taxation, there are a variety of career prospects for you to choose from. Some of the possible job opportunities are as follows. 
As an auditor, you can either become a government auditor or a private consultant. The auditors who deal with public companies are also of two (2) types. Internal and external auditors.  Moreover, tax professionals can become practising tax professionals in the field as per their preferences. You can either become an income tax officer or a sales tax partitioner. Also, the following jobs are always on the table as per the skill set of applicants in addition to the degree of BS Audit and Taxation or professional certification.  
Book-keeping, Accounting and Auditing Clerks

 

Budget Analysts

 

Financial Analysts

 

Financial Managers

 

Personal Advisors

 

Instructors And Lecturers

 

Tax Examiner and Collects

 

Revenue Agents

 




You can read out if you want to know more about audit and taxation. 
Skills Required from Audit and Tax Professionals 
One needs solid knowledge and skills to stay competitive in the job market. The same is the case with BS in Audit and Taxation. Therefore, you will learn ample hard and soft skills during your stay at UCP. Some are as follows.  
Polished Research and Writing Skills

 

Keep Track of Updates

 

Robust Grip on Software like Excel, Sage and other Tax Calculators

 

Presentation Skills

 

Data Analysis Skills 

 

A deep knowledge on Audit and Tax Regulations 

 
Amenities Available at the University of Central Punjab (UCP) 
Keeping the course and trends aside, UCP offers the best on-campus facilities to its students. The facilities and amenities are listed below for your consideration.  
194 PhD Faculty Members

 

16 International Faculty Members

 

State-of-the-art Campus

 

Digitally Equipped Classrooms

 

Proper Power Backup Facility

 

47 Dynamic Students Societies & Clubs

 

Highly Ranked by HEC

 

For more details, you can visit us on the

website.

 

 
Want to Apply to BS Tax and Audit in 2023? 
In 2023, the scope of audit and taxation is on the rise. Therefore, choosing BS Audit and Taxation could be the best decision for you to make. The fall admissions 2023 are open at UCP. You can apply through the online portal.  
Conclusion
BS Audit and Taxation is one of the most exciting degrees in Pakistan. The tax is applicable throughout the globe. Hence, you can develop the skills and knowledge through BS Audit and Taxation at UCP. Make a wise decision today and get enrolled online.