BSc Electrical Engineering Program in Pakistan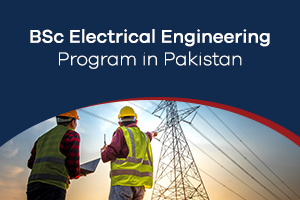 The BSc Electrical Engineering program prepares students for professions in engineering technology. It focuses on application-oriented fields such as instrumentation, telecommunications, wired/wireless networking, and electrical power, both conventional and renewable. 
Furthermore, the course program is broad-based and technically oriented. It emphasizes the use of modern technology to: 
Solve issues.

 

Develop and create products.

 

Streamline processes, techniques, equipment, and resources.

 
Scope of BSc Electrical Engineering in Pakistan
Electrical engineering is the engineering discipline that deals with electrical technology. Electrical engineers work on a broad range of equipment, gadgets, and systems, from small microchips to enormous power plant generators. 
Do you want to know about the scope of BSc electrical engineering in Pakistan? Well, you have come to the right place. In Pakistan, the scope of electrical engineering is increasing at a rapid pace. There is a strong demand for electrical engineers due to the country's rapid population increase and the establishment of several new residential societies.  
In Pakistan, one of the most popular and in-demand degrees is electrical engineering. The scope of BSc electrical engineering contributes to industrial progress. 
Furthermore, industries are constantly looking for skilled and experienced electrical engineers. They also offer generous salary packages. Electrical engineering degrees can provide access to a wide range of career prospects.  
What Careers Can You Pursue with a BSc Electrical Engineering?
There are several job options for those who decide to opt for a career in electrical engineering in Pakistan. Among these career opportunities are: 
1. Telecom Engineer
A telecom engineer is primarily responsible for designing and studying new technologies that assist consumers. So, with a BSc electrical engineering degree, you can work as a telecom engineer, and you will also be responsible for researching continuing services to update existing facilities. 
2. Research and Development Software Engineer
Your duties as a research and development software engineer will include: 
Conducting research and development plans.

 

Development of software.

 

Testing fresh software system components.

 
3. Network Planning Engineer
A network planning engineer is in charge of maintaining a company's computer networks. So, with a degree in electrical engineering, you can work as a network planning engineer. You will guarantee the network's reliability, sustainability, and accessibility for the technical team so that business operations go without a glitch. 
4. Consulting Engineer
Consulting engineer has a very difficult and demanding profession. When you opt for this career, you are in charge of advising clients on electrical systems in many types of buildings, including: 
Factories

 

Offices

 

Industry-Specific Buildings

 
Other careers that you can pursue with a bachelor's or master's in electrical engineering are as follows: 
NET Developer

 

Maintenance Electrician

 

Maintenance Technician

 

Electronic Technician

 

Repair Technician

 

Field Service Technician

 

Software Developer

 

Senior Software Engineer

 
And the list goes on.  
Which Industries You Can Work in with a BSc Electrical Engineering?
As an electrical engineer, you can work in the government and private sectors. The following are the industries where you can find potential jobs: 
Engineering Industries

 

Automatic Industries

 

Aerospace Industries

 

Chemical Industries

 

Construction Industries

 

Defense Industries

 

Electronics Industries

 

Consumers Industries

 

Marine Industries

 

Goods Industries

 

Material and Metals Industries

 

Pharmaceuticals Industries

 

Rails

 

Oil and Gas

 

Power Generation

 

Utilities

 

Telecoms

 
Salary of Electrical Engineer in Pakistan
Well, the salary largely depends on your talents, experience, certifications, and abilities. Additionally, it varies depending on the city or region in which the person works. With an average monthly income of PKR 45,000, the expected overall pay for an electrical engineer in Pakistan is PKR 105,000. 
How Can You Become an Electrical Engineer in Pakistan?
You can become an electrical engineer in Pakistan by getting a BSc electrical engineering from either a government or a private university. The following are the essential requirements for enrolling in electrical engineering in Pakistan at the bachelor level: 
You must obtain 60% in the FSC pre-engineering program or at least a second division on your intermediate (equivalent) exam.

 

You should also have to pass the Engineering College Admissions Test or ECAT for this

 

B-Tech for DAE degree holders is also eligible to apply.

 
For the University of Central Punjab: 
You must have at least 60% in your F.Sc. (Pre-Engineering)/A-Level* with (Math, Physics, and Chemistry) or DAE in Electrical/Electronic Technology. 

 

A-Level students will need to provide an equivalent certificate from the Inter Board Committee of Chairmen (IBCC), Islamabad.

 
BSc Electrical Engineering from UCP
If you are looking for an institute for obtaining BSc electrical engineering, then The University of Central Punjab is the best option. Why? The purpose-built campus is designed in a way that you will have every educational facility available.  
This includes modern fully equipped labs where you will apply the electrical engineering theories into practice. In addition, you will be learning from the best professors in town. So, secure a seat and start your journey right now.