How to Apply to UCP Online Admissions 2023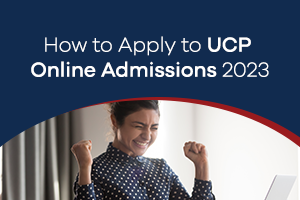 Are you looking for a guide on how to apply to UCP online admissions 2023? Here you will find everything you need to know about online admissions and why UCP is the best university for your graduate and post-graduate studies.  
So, if you have decided which program you want to study for your bachelor's, the next step is to enroll in that graduate course at UCP. You can either do that by going to the campus or you can apply online from the comfort of your home. We will tell you how you can apply online and get admission to your desired program.  
Procedure for Applying to UCP Online Admissions
The University of Central Punjab accepts applications for admissions twice a year, in the Fall and Spring semesters. 
However, admissions to the faculties of engineering, pharmacy, and law are only available during the fall semester. Let's see the University of Central Punjab's online application procedures.  
Step 1
Either visit our official website that is ucp.edu.pk to have a clear understanding of our courses and what these programs offer. You can also get this information by visiting the campus. After deciding on the course you want to study, you are provided with two options for applying online. 
Option 1: Apply Online and Pay Your Fee Online
You can sign up online and fill out the online admission form at admissions.ucp.edu.pk. However, in this case, you can pay the application processing fee online or in the local offices of recognized banking firms such as The Bank of Punjab/Al Baraka Bank. 
Option 2: Pay Your Fee at UCP Campus and Then Apply to Admissions Online
In this option, you will submit the application processing fee to the UCP Admissions Office. The office will provide you with a username and password to complete the online admission form. 
Step 2 
If you have chosen option 1, the next step is to go to admissions.ucp.edu.pk. You can also click the tab on the right side of your screen named "apply online" or you can click the admissions ad displayed on your screen the moment you open our website.  
Either way, you will be directed to the UCP online admissions 2023 page.  
Step 3 
For option 1, you have not registered yet, so you have to click "create account" to sign up. when you click that option, a new page will open requiring some basic information the university needs to register you.  
The information will include: 
Name

 

Mobile Number

 

Email Address

 

CNIC 

 
Step 4
After filling out the sign-up form, click submit. As a result, you will be registered for applying to UCP online admissions 2023. You will receive an email to your given email address just after you are done signing up. This email will have the username and password that you need for your online admission application.  
What If You Have Chosen Option 2? 
If you have decided to pay at the campus instead of online, then you will be provided with the username and password right away. All you have to do is enter this information in the blanks on the admission page, and you will be directed to the online admission application form.  
Online Admission Application 
After you enter your username and password, a log-in tab will appear. Click that and the main dashboard will show on your screen. Now tap on the "Application form" and a new page with your online admission form will open. This form requires the following information  
A Picture: You will have to upload a clear picture of yourself on the application form.  
Personal Information.

 This consists of four parts as follows:

 
Personal Details 

 

Contact Details 

 

Parents/Guardian Details 

 

Fee Payer Details

 
Academics:

 This includes your matric and FSc subjects, results, etc. 

 

Program Preference:

 You can select the program of your choice from the drop-down menu. Please take note that the curriculum you see in the submenu will be based on your previous academic qualifications. 

 

Scholarship: 

You can apply for different scholarships while filling out the form. For example, if you are a PGC student, you can apply for an alumni scholarship. Similarly, you can benefit from a need-based scholarship if you cannot afford to pay the fee. 

 

Final Submission:

 Review all of your entered information—including Personal Information, Academics, Program Preference, and Scholarship—carefully. After that, click 

submit. 

 
Note: Once you have submitted the form, please remember that you cannot edit or change the details. That is why we would suggest you fill out every piece of information very carefully.  
Application Processing Fee
This payment depends upon the option you have chosen. You can either submit it online or go to the campus and pay your fee.  
Test/Interview Letter
The next step after submitting an online admission application is to check the Test/Interview Letter. To see your test/interview details, simply tap the Test Letter button. 
So, this is all about the procedure of applying online to UCP online admissions 2023. If you have any queries, you can always reach out to us at info@ucp.edu.pk.  
Now comes the question: is studying at UCP worth it? Is it the right choice for your bachelor's? Let us clear up your confusion.  
Why UCP for Your Graduate Studies?
Why is the University of Central Punjab the best institute for your bachelor's? There are so many factors that one should consider while choosing a university. Do you know that UCP fulfils all those requirements and this fact makes it a top institute to study? Let's look at all the facilities that UCP offers along with top-notch education.  
1. Purpose-Built Campus
On the campus, there are three buildings with a total of 173 classrooms, six boardrooms, a radio station, a webinar room, and an incubator. Additionally, parking facilities are adjacent to all three buildings.  
We have three large courtyards, an auditorium, and two hygienic cafeterias where you can spend your spare time with your friends. In addition, security personnel are always present at the gates to ensure your security.  
2. Exceptional Faculty
We take pride in having an exceptionally qualified faculty. You will receive education from professional teachers who will guide you through your academic career. In addition, you can always seek their advice in your professional life. 
As a result, in addition to studying under their supervision, you will benefit from their knowledge and experience which will help you stand out from the crowd when you start your practical life. 
3. Fully Equipped Labs
UCP provides state-of-the-art science and computer laboratories for its students to gain hands-on experience. In these laboratories, you will be able to put your theoretical knowledge into practice. As a result, you will not only be reading books but also gaining practical experience. 
Furthermore, UCP recognizes the value of the CPEC (China-Pakistan Economic Corridor) and has begun Chinese language courses. Consequently, you will also have access to the language lab for Chinese. This is one of the many reasons why UCP is worthwhile to study.  
4. Library
You have access to a fully equipped library at UCP that has 40,000 textbooks on a wide range of topics. It also includes 2350 reference books, such as encyclopedias, handbooks, dictionaries, and directories. You will also get access to academic research databases that will help you in your final year research project along with your exam and quiz preparations.  
5. HEC-Based Curriculum
We aim to deliver knowledge on the most recent trends in your chosen fields. That is why our curriculum is not only up-to-date but also follows HEC guidelines. As a result, you will have less trouble getting work because you will be trained to meet market demands. 
6. Girl's Hostel 
In addition, there is a girls' hostel near the campus for outstation female students. There are 216 residential rooms with a table and chairs in the hostel building. As a result, you can study and prepare for your tests and quizzes. Similarly, there is a prayer room, a kitchen, a 24-hour power supply, and other amenities to make your stay more comfortable. 
7. Shuttle Service
UCP offers a bus shuttle service as a cost-effective and safe way of transportation for university staff and students. A fleet of 12 luxurious buses travels eight different routes throughout the city of Lahore every hour. Avail yourself of this opportunity by applying to UCP online admissions 2023.  
8. Vibrant Campus Life 
UCP aims to provide a vibrant yet well-balanced campus life for its students. We ensure that you participate in healthy physical extracurricular activities to accomplish this. So, there are numerous societies and clubs that you can join. These groups provide you with the chance to discover your hidden abilities and improve your interpersonal skills.  
Some of the societies are as follows: 
Environmental Protection Society 
UCP Photography Club

 

UCP Dramatics Club

 

Catalyst Society

 

Freelance Force Society

 

Debating Society

 

Character Building Society

 

Disaster Management Society

 

UCP Media Club

 

Plektra- Music Society

 

Ride with Pride

 

UCP Health Club

 

UCP Sports Club

 

Marketing Executive Club

 

Shape Up – Physical Fitness Club

 
9. Scholarships
UCP provides many scholarships to its students based on individual needs. When you apply to UCP online admissions 2023, you can benefit from this facility.  
We believe in encouraging students who perform in exams. Furthermore, we offer fee concessions to students who cannot afford to pay tuition fees. We provide the following scholarships: 
Merit-Based Scholarship

 

Need-Based Scholarship

 

PGC Scholarship

 

Talent-Based Scholarship 

 

Sports Scholarship 

 

Legacy Scholarship

 
10. Student-Centric Departments
We have a student-focused management team to make sure your time at UCP is trouble-free. All of your questions and concerns will be addressed. We have a variety of departments to assist you with many areas of university and professional life. 
Department of Student Affairs

 

Career Service Office

 

Quality Enhancement Cell

 

Volunteers in Service

 

Student Services Center

 

Center for Professional Excellence

 
Get Enrolled at UCP Now
You can apply to UCP online admissions 2023 following the procedure we have described above. So, enrol yourself at the University of Central Punjab and get a step closer to fulfilling your passion.