Pharm D: How to Become a Doctor of Pharmacy in 2023?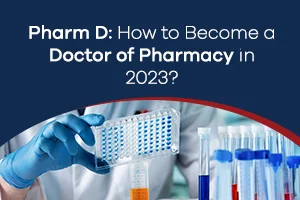 Are you passionate about the pharmaceutical industry and want to be called a Doctor of Pharmacy? Well, you must earn a Pharm D degree to achieve this goal.  
What is Pharm D?
A Pharm D or D Pharmacy is a five-year-long professional course in which you study pharmaceutical sciences. It enables you to practice pharmacy in the healthcare industry, including drug stores and hospitals.  
How to Become a Doctor of Pharmacy in Pakistan
In Pakistan, candidates with an FSc pre-med background who meet the eligibility criteria can pursue this degree. D pharmacy in Pakistan has been approved by the Higher Education Commission. The degree is recognized by the Pharmacy Council of Pakistan. In addition, it is also acknowledged globally. 
A number of institutes offer D.Pharmacy courses in Pakistan. These include 26 public sector institutes and 32 private sector colleges. In addition, the Pharmacy Council of Pakistan (PCP) has granted 43 colleges the NOC to initiate their pharmacy courses.  
Note: Only colleges that are approved by PCP can offer the pharmacy course. So, it is advisable for students doing Pharm D to enroll themselves with PCP as well through their colleges.  
So, to become a Doctor of Pharmacy, you need to pass your FSc pre-medical with at least 60% marks. Then you can enroll yourself in any of the PCP-approved institutes that offer a Pharm D program, for example, the University of Central Punjab. It is the best university in Lahore for pharmaceutical sciences and prepares you for a number of careers in this field.  
Pharmacy Careers for D Pharmacy Students
Because of the rise of the healthcare and pharmaceutical industries, the demand for qualified pharmacy experts has surged in recent years. For students who are thinking about a rewarding career in the pharmaceutical industry, this is a perfect time to do so.  
The scope for pharmacists has expanded, and there are more Doctors of Pharmacy working in healthcare services now than ever before. Why? This is due to their greater involvement in the administration of medication to patients of all ages and working in different positions.  
Here is a list of pharmacy careers for you:
1. Community Pharmacist
As a community pharmacist, you will play a crucial role in the world of pharmacy. That is because of your extensive connection with patients and the public, community pharmacists play a crucial role in pharmacy. 
In addition, you will be one of the most accessible healthcare providers, assisting with prescription filling and pharmacy management. 
However, your tasks will involve:  
Offering patients useful, practical services including administering vaccinations

 

Assisting with quitting smoking

 

Creating customized medication schedules

 

Educating patients on medication interactions

 

Managing existing medical issues

 

Offering advice on over-the-counter drugs and nutritional supplements.
2. Clinical Pharmacist
After completing your pharm D course, you can work as a clinical pharmacist in a wide range of direct patient care settings, including hospitals, clinics, and a number of other places related to healthcare. In addition, to make sure that patients' prescription medications contribute to the best potential health outcomes, you will work closely with doctors, other medical experts, and patients.
3. Hospital Pharmacist
You will ensure that patients receive the right medications. You will be assisting with the transition of care from the hospital to the patient's home and working with other healthcare professionals.  
As a hospital pharmacist, you will also be in charge of: 
Keeping an eye on the effects of the medication

 

Advising patients about potential side effects

 

Keeping an eye on compliance and the therapeutic response to medications to make sure that patients are receiving the care they require.
4. Compounding Pharmacist
As a compounding pharmacist, you will create customized pharmaceuticals based on a doctor's prescription to address a patient's particular needs. 
5. Drug Information Specialist Pharmacist
When you gain a Pharm D degree, you can become a drug information specialist. You can provide patients with better medication safety through their job. In addition, you will educate the public about toxins, toxicology, and pharmaceuticals.
6. Industry-Based Pharmacist 
Pharmacists who work in the industry are frequently employed in the pharmaceutical industry, where you will contribute to the development, commercialization, promotion, and optimal use of pharmaceuticals. 
Get Your Pharm D Degree from UCP 
The University of Central Punjab offers multiple courses including the D Pharmacy course. If you want to become a pharmacist or a Doctor of Pharmacy, you do not only need education but also practical exposure and qualified mentors who guide you throughout your journey. And UCP takes pride in providing all of this to its students.  
So, get yourself enrolled in their Pharm D program right now. For more information, you can contact them at info@ucp.edu.pk.