Places to Visit on a Campus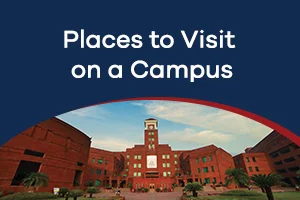 If you have completed your intermediate education and are about to start your university life, then you should know that visiting the university campus will help you decide whether you have chosen the right institute for your higher education or not.  
We know that academics is the main factor when choosing a university. But to have a memorable experience, campus life matters equally. So, if you got into the University of Central Punjab, here are some places you must visit before your semester begins.  
UCP Library

 

Sports Complex

 

Modern Laboratories

 

Auditorium

 

Cafeteria and Food Street

 

Girls Hostel

 

Transportation Services

 

Student Service Department

 

Media Hub

 
UCP Library
We have an air-conditioned fully stocked library at our campus to provide you with a wide range of educational resources. To ensure you are well prepared for exams, the UCP library has 40,000 textbooks along with 2350 reference books including: 
Encyclopedias

 

Dictionaries

 

Handbooks

 

Indices

 

Directories

 

Islamic Collection

 
Apart from these, you will have access to the required resources your need for your research project. In addition, to further assist you, we have made different research databases available to you. The library of the University of Central Punjab is open during working hours and you will have a comfortable place where you can study alone or in groups.  
Sports Complex
To ensure you have a well-balanced campus life, we provide opportunities to engage you in healthy physical extracurricular activities. For this purpose, we have a sports complex that you must visit.  
It includes a gymnasium that has different spaces for female and male students. in addition, the sports complex also contains an all-weather swimming pool. This 25-yard-long pool has 4 lanes with a depth of 3 to 6 feet. Apart from this, you can also play table tennis and foosball.  
Modern Laboratories
The state-of-the-art laboratories make the University of Central Punjab unique and a better institute than other universities. In order to prepare you for a successful professional life, we ensure you have hands-on experience with what you learn in the classrooms.  
That is why we have fully equipped art, engineering, IT, pharmacy, science and computer labs. You can apply the concepts of theoretical knowledge and perform experiments. Our experienced teachers and professors will guide you on how to operate the latest equipment.  
Auditorium
The auditorium is the nerve cell for all the events and activities that occur at UCP. The purpose-built auditorium has remarkable lighting and sound system. Moreover, it can accommodate up to 400 people at a time.  
You can attend conferences, speaker sessions, musical performances, and plays along with national TV recordings in this auditorium.  
Cafeteria and Food Street
To have a good time at university, you must have a place where you can hang out with your friends in your free time, right? That is why we have two cafeterias for students and a food street. All day long, students have access to a variety of meals and snacks in these air-conditioned cafeterias.  
In addition, a canteen, barbeque options, and a selection of diverse traditional foods are available on the food strip, which has a relaxed and lively environment. 
Girls Hostel
If you are coming from out of town to study at the University of Central Punjab, we have a girls' hostel facility for you. The hostel has residential rooms with bedding, cupboards, and a study table.  
In addition, there is a common room, prayer room, and dining room, and electric water coolers are also provided to students. To facilitate you further, there are 24/7 power supply backups and free Wi-Fi in the hostel buildings.  
Transportation Services
Our administration department oversees the transportation office, which serves faculty and students who need a safe mode of transportation at a low cost. Every hour, a fleet of 12 luxurious buses travels eight routes through the city of Lahore to ease your commute to the university.  
Media Hub 
If you are an art student, you should definitely visit the Media hub of UCP. It consists of three facilities: 
Production House

 

FM Radio

 

Non-Linear Editing labs

 
1. Production House
This helps students benefit from cutting-edge technology as they discover new ways to create media content. The specially designed studio gives students relevant experience and exposure in areas such as television and cinema. 
2. FM Radio
The radio broadcast station inside the Faculty of Media and Communication Studies at UCP is equipped with cutting-edge equipment and technology. Additionally, it is Pakistan's only university-run radio station that broadcasts 24 hours a day, seven days a week. 
We aim to produce skilled radio jockeys, producers, audio editors, anchors, and broadcasters for today's media market by training students at the radio station. 
3. Non-Linear Editing labs
We have equipped our systems with the most recent applications, making it one of the most efficient NLE labs that any institute or production firm has owned in Pakistan to date. The editing lab at the University of Central Punjab assists students working on graphic design and visual communication projects as part of their undergraduate, graduate, and postgraduate degree courses. 
Student Service Department
A good university campus life is not all study and fun. Your institute must have student-centric management. That is why UCP has a Career Service Office department. You can have career counseling from expert professionals.  
In addition, the Department of Student Affairs manages all the extracurricular activities through different societies and clubs. Similarly, the Student Services Center (SSC) acts as a centre for all student-related issues and as a resource for all UCP students. To make it easier for students and visitors, SSC is dedicated to offering top-notch academic and non-academic services under one roof.  
The Final Word
Now you know that, apart from getting a high-quality education, you will have a remarkable campus life at the University of Central Punjab. For more information, you can always reach out to us at info@ucp.edu.pk.