UCP Admission 2023: Everything You Need to Know about the Bachelor's Programs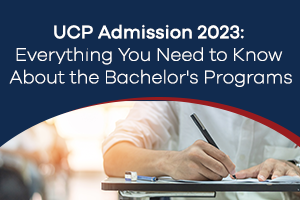 Are you done with your intermediate studies and looking for a university to start your bachelor's? Well, we have good news for you. UCP admission 2023 are now open, and you can enroll in any of your desired courses.  
Here in this article, you will learn everything about why the University of Central Punjab is the best choice for your graduate and post-graduate studies. Keep reading to find out.  
Undergraduate Courses at UCP 
There are many courses that we offer under the umbrella of different faculties. Let's look at the various faculties and the BS programs that you can choose to study at UCP: 
1. Faculty of Pharmaceutical Sciences
You will be studying Doctor of Pharmacy of Pharm D or M. Phil in Pharmacy as your post-graduate studies. So, if your dream is to become a pharmacist, this is your program. UCP admission 2023 are open now, so enroll yourself right now.  
2. Faculty of Languages and Literature
Do you plan on becoming a novelist or poet? Do you want to dig deeper into the world of literature? Faculty of Languages and Literature is offering BS and MS programs in the field to help you achieve your professional goals.  
You can choose to study: 
BS English Literature and Linguistics

 

MS Applied Linguistics

 

MS English Literature etc. 
3. Faculty of Information Technology and Computer Science
The world is driven by technology, and choosing this area as your profession is a wise choice. UCP takes pride in offering you the best courses in IT and Computer Science. FOIT's curriculum is targeted at the high-tech industry and contemporary trends, with well-balanced academic and practical courses.  
The programs include: 
BS Computer Science

 

BS Software Engineering

 

BS Data Science

 

BS Artificial Intelligence

 
In addition, the post-graduate programs include: 
MS Computer Science

 

PhD. Computer Science

 

MS Data Science

 
So, if you are passionate about technology and want to explore this diverse world of opportunities, then choose any of the above-mentioned course and get yourself enrolled as UCP admission 2023 are now open.  
4. Faculty of Engineer
The Faculty of Engineering is divided into three departments: 
Civil Engineering

 

Electrical Engineering

 

Mechanical Engineering

 
The primary goal of the Faculty of Engineering is to develop highly effective engineers by delivering the best education possible in a productive environment. The Faculty built its infrastructure in compliance with Pakistan Engineering Council's guidelines (PEC). 
You can choose to study any of the courses mentioned below as UCP admission 2023 are open.  
BS Electrical Engineering

 

BS Civil Engineering

 

BS Mechanical Engineering

 
And you can also opt for the master's programs in the above-mentioned fields.  
5. Faculty of Media and Mass Communication 
UCP admission 2023 are open and so is your chance to live your dream of studying media and mass communication. In order to maximize each student's potential for a future in the media and communication sectors, FMMC provides you with in-depth learning, industry-based skillsets, critical thinking, and creativity. 
You can choose from these courses: 
BS Media and Communication Studies

 

BS Film, TV, and Digital Media

 
6. Faculty of Humanities and Social Sciences
The Faculty of Humanities and Social Sciences (FOHSS) provides students with a scholarly, academically competent, and culturally diverse environment. The FOHSS provides a wealth of possibilities for studying a variety of disciplines, including Political Science, International Relations, Economics, Psychology, Physical Education and Sport Sciences.  
Our mentors are totally committed to encouraging students to think critically, analyze, and ask questions using a distinctive methodology that combines both conventional and cutting-edge teaching techniques. 
So, if you want to study Psychology or become an economist, UCP is the best place to be. Following are the courses offered by the faculty of humanities and social sciences.  
BS Psychology

 

BS Economics

 

BS Political Sciences

 

BS International Relations

 
7. Faculty of Science and Technology
The faculty of science and technology is home to some of the most innovative and creative scientists and leaders. It guarantees excellence in education and research, and high-quality training for our students so they can succeed and be leaders in their professions on a regional and international scale.  
You will be studying the following courses: 
BS Biotechnology

 

BS Biochemistry

 

BS Microbiology

 

BS Medical Laboratory Technology 

 

BS Food Science and Technology

 

BS Chemistry

 

BS Zoology

 

BS Mathematics

 

BS Physics

 
8. Faculty of Management Sciences
Is management your strong suit? Do you aim to work as a manager in the corporate world and run your team? Then it would be best if you chose the Faculty of management sciences. Here is the list of courses you can study by enrolling yourself as UCP admission 2023 are open.  
BBA

 

BS Accounting and Finance

 

BS Business Analytics 

 
In addition, FOMS also offers master's programs in business administration, accounting and finance, etc.  
9. Faculty of Law
Become a competent lawyer at UCP by studying LL.b. under the supervision of the faculty of law. You will be trained to critically observe, solve ethical dilemmas, and serve the community.  
A mediation centre has been established on the FOL campus, similar to the law clinic and peace centre, to give a venue for pro bono services in negotiation, mediation, arbitration, etc. 
UCP Admission 2023 Are Now Open!!!!
This is all about the bachelor's courses offered at the University of Central Punjab. You can apply online or you can get admission by visiting the campus and avail yourself of the opportunity of studying at the best university in Lahore.