UCP Girls Hostel-The Best Accommodation Place for Outstation Students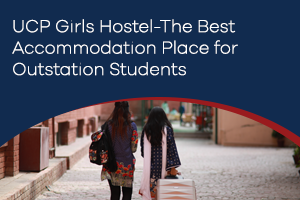 If you are not a resident of Lahore and have chosen the University of Central Punjab for your higher studies, then do not worry. We have a place to accommodate you near the campus at the UCP girls hostel. 
So, you do not have to look for other hostels as you will be living closer to the campus. In addition, you can go to the university anytime you want without having to travel far. However, our hostel facility is based on a first-come, first-served basis. So, hurry up and secure a slot for yourself. 
Facilities at UCP Hostel for Students
Although the word "hostel" may not sound all that exciting, life there is really different and full of unforgettable experiences! There are so many things you will learn while spending your time in a hostel.
Living in a UCP girls hostel will provide you with the possibility to learn about yourselves and be independent. We do so by providing you with every possible facility to make your stay comfortable and peaceful. 
Here are some amenities that you will have in our girls' hostel:
Purpose-Built Building
The UCP girls hostel is a fully furnished accommodation place for our female students. The building comprises conductive settings. In addition, we have designed it in a way to provide you with a comfortable environment.
In addition, the hostel building is equipped with a 24/7 power supply backup so that you do not face any inconvenience while you are studying or preparing for exams. Furthermore, there are electric water coolers and irons, along with electric geysers.
Similarly, you will have access to free Wi-Fi so that you can easily prepare from online lectures and video call your loved ones anytime you want. 

State-of-the-Art Residential Rooms
After a hectic day at university, all you want is to go to your room, lie down, and have a nap. However, you cannot feel relaxed if you do not feel peaceful the moment you step into the room. That is why we have designed state-of-the-art, centrally air-conditioned residential rooms in the UCP girls hostel. 
We have taken every aspect of your needs into consideration and have provided you with comfortable bedding. You will have cupboards where you can keep your belongings. In addition, there is a study table and chair in each of the rooms for every student where you can sit and prepare for exams and quizzes. 

Round-the-clock Security
You have travelled to study in another city. So it is our duty to provide you with a safe environment and ensure your security within the premises of the building. That is why we have vigilant security staff in the UCP girls hostel. 
In addition, the building is equipped with CCTV cameras where every activity is recorded. There is a hostel superintendent on duty 24/7 to whom you can go if you have any concerns. So, be very sure that you are going to be living in a safe hostel. 
Hygienic Mess 
Another facility that we provide is a hygienic mess for our students. You will have a three-time meal including breakfast, lunch, and dinner. In addition, there is the facility of a common room and a dining room, where you can sit with your friends, eat lunch, and hang out in your free time. 
In addition, there is a kitchen with microwave ovens in which you can heat up your homemade food. Also, there are deep freezers where you can store any food you bring from your home. Furthermore, the water you will be drinking here is clean because we provide filtered drinking water. 

Prayer Room
There is a prayer room for students where you can go and offer your daily prayers. The prayer room is also air-conditioned to facilitate you in your holy prayer times. 
Exceptional Administration
We will ensure you feel at home at the UCP girls hostel. That is why we leave no stone unturned to resolve your issues. Whether you face a problem regarding your room placement or there is any other maintenance problem, our administrative staff is at your service round the clock. So, you can always report the issue and it will be dealt with immediately. 
24/7 Available First Aid 
To deal with any emergency situation, we have made sure that first aid is available to every student 24/7. Thus, if someone needs medical help or a band-aid, our staff will be there to provide the first aid and deal with the situation right away. 
The Final Thoughts
The UCP girls hostel is designed by keeping every student's needs in mind. So, if you are an outpost student and are anxious about living in a hostel, do not worry at all. You are going to be living in a place where you will feel at home and have the best time of your life. 
However, if you need more information, contact us at hostel.warden@ucp.edu.pk or call us at +92-80-000-827.