To foster the spirit of entrepreneurship among students and faculty, University of Central Punjab has established an Incubation Centre, Takhleeq.
At Takhleeq, budding entrepreneurs will be immersed in an environment for startup magic to happen. Takhleeq is committed to facilitate and support entrepreneurs who are driven to solve unique problems by investing in their ideas.
Students qualifying in the competition will have an access to a state of the art incubation center with a dedicated co-working space, conference rooms, video conferencing facility, and a network of industry mentors. As teams work to build their businesses, they make invaluable connections to potential customers, partners, investors, and industry influencers.
If you have the potential to bring about disruption, submit your ideas now.
Last date for submission: 13th June' 18
For queries. please contact:
Madiha Parvez
Head Takhleeq – UCP Incubation Centre
Email: madiha.parvez@ucp.edu.pk
Muhammad Amar Sohail
Email: amar.sohail@ucp.edu.pk
Mobile: 0304-9268347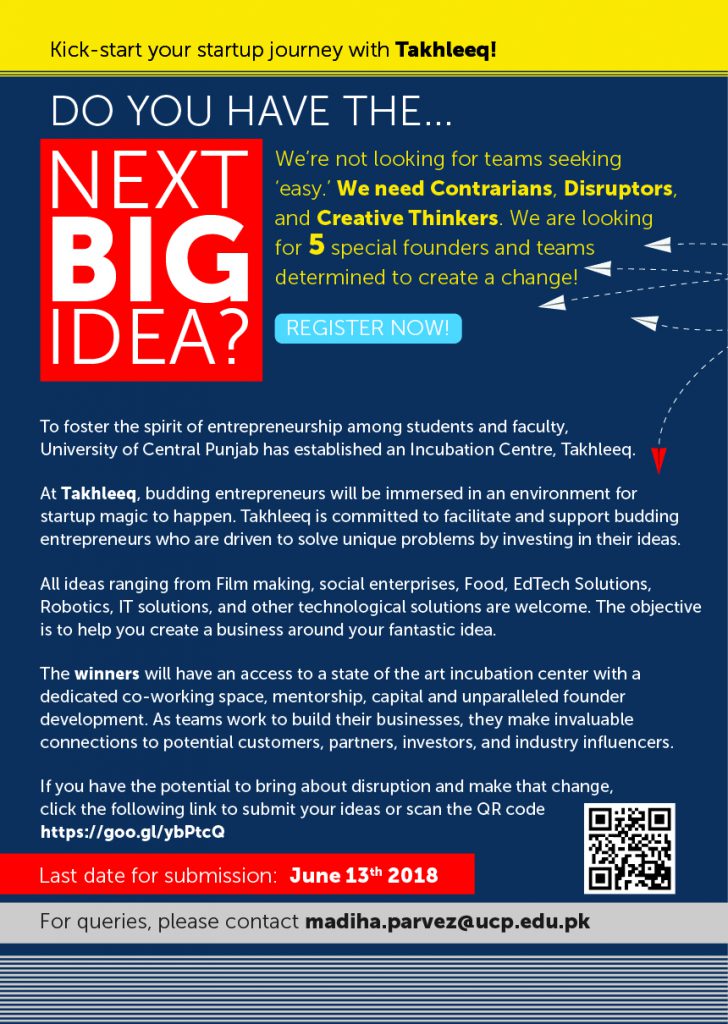 MORE DETAIL