10 Most Commonly Asked Job Interview Questions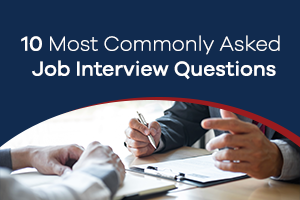 Do interviews scare you? Do you feel anxiety and get panic attacks while giving interviews? We have a solution for you. If you know the basic questions that employers ask, you can prepare the answers accordingly, impress your recruiters, and land the job of your dreams.  
So, making a list of talking points for frequent interview questions will help you feel confident and prepared during your interview. Although each interviewer is unique and their questions may change depending on the position and industry, there are a few common ones you should expect from them. 
In this post, we will focus on 10 main interview questions and provide sample answers you can use to create your own. As a result, this will give you an idea of what to expect on interview day and prepare you for an excellent first impression. 
Interview Questions and Example Answers!
Here is a list of possible questions that every interviewer asks, including some of the best examples of answers and practices.  
1. Tell Me About Yourself
Your interviewer will probably ask you a few questions about yourself at the beginning of the interview. They want to know your background, how you came to apply for the position, and why you think you'd be a great fit in general.  
The goal here is to keep your response brief and to the point, including only professional information related to the job. 
So, you should organize your response as follows: 
Start by talking about your background, including an overview of your most significant responsibilities.

 

Next, briefly outline your previous experience and important accomplishments.

 

Finally, explain how you discovered the new job and why it is a suitable fit for you and your objectives.
2. How Would You Describe Yourself?
Your interviewer wants to know how your talents and traits fit with the capabilities they believe are essential to succeed in the role. Choose one or a few of your own traits and include examples to support your points in your response to this question.  
For example, if you are ambitious and determined, you can say: 
"I'm a motivated, ambitious person. I thrive in a goal-oriented atmosphere where I can continually challenge myself both professionally and personally. I'm continuously looking for ways to improve and grow. These qualities have benefited my professional success." 
 3.
Why Do You Want to Work Here?
Interviewers frequently ask this question to discover whether or not you researched the company and evaluated whether you would be a good fit. The best approach to preparing for this question is to do your homework and learn about the company's products, services, mission, history, and culture.  
So, while answering, mention the features of the company that appeal to you. In addition, include the aspects that match your principles and professional aims in your response. 
For example, if you are applying to an educational organization, try answering this way: 
The goal of your company is to offer an affordable, high-quality education to build new a generation of individuals who are able to support our country in addressing the problems of the modern world.. I, myself, had difficulty getting admission to a good school because of a lack of facilities.  
So I wanted to work somewhere where I could make a difference and help children gain an education. Finding a company with a great work atmosphere and values that align with my own has been a high focus during my job hunt, and this company is at the top of the list. " 
4. Tell Me About Your Work Experience
An employer may or may not be aware of your background. In any case, this question allows you to elaborate on your experiences that are most relevant to the potential role. Employers want to know that you've thought about what they're looking for in a suitable candidate and that you have particularly applicable or transferable skills.  
For example, consider the following tips for responding: 
Describe Your Experience in Detail:

"My experience in finance management is of 7 years. I have also assisted 45 recurring clients in increasing their capital."

 

Draw Connections to the Role: 

"

As a financial analyst, I've utilized visual growth charts to demonstrate to my clients how different saving plans affect their goals. As a senior financial analyst, I supervised other analysts and instructed them to provide the best possible service to the customers."

 

Give a Goal Statement at the End: 

"

As your senior financial counsellor, I want to use an individualized strategy to assist customers in creating the retirement savings they will need."

 
However, if you are a fresher and have no experience, be confident, and talk about similar internships or projects you have done in your educational journey. In addition, show them how eager you are to learn new things.  
5. What Are Your Future Goals?
Hiring managers typically ask about your long-term goals in order to determine whether you intend to work for the organisation. Additionally, this question is used to assess your ambitions, career expectations, and aptitude for planning.  
The easiest method to answer this question is to look at your present career path and how this role helps you achieve your long-term goals. For example,  
"My goal is to keep improving my skills. One of the reasons I want to work for this company is the opportunity to wear numerous hats and collaborate with people from many departments. In my opinion, this experience will help me significantly in accomplishing my long-term objective of one day heading up a marketing department. " 
6. Where Do You See Yourself in Five Years?
This is a common question that interviewers ask candidates. They do so to understand how you envision your future life might assist employers to determine whether the role and the company's trajectory align with your self-development goals. You can respond to this question by describing the abilities you wish to acquire and the goals you want to accomplish: 
"In the next five years, I want to see myself as a competent industry expert. I want to be able to mentor and educate both prospective designers and learners. I would also like to obtain specialized knowledge in user experience in order to be a well-rounded contributor working with design and marketing teams on large-scale projects that make a difference for both the company and the worldwide community." 
7. Give Me an Example of a Difficult Work Situation and How Did You Overcome It?
This question is frequently used to assess how effectively you handle pressure and your problem-solving skills. Remember that stories are more memorable than statistics and data, so attempt to "show" rather than "tell." This is also a wonderful chance to show your human side and how you can endure in the face of hardship. 
You can use the STAR technique while answering the question.  
Situation

 

Task

 

Action

 

Result or Learning

 
Let's see how you can use this approach to answer the question. "there was this one time when my supervisor took a two-week vacation. It resulted in the loss of one of our prospective customers. When inquired, he said that he was not receiving the individualised attention he had been promised. 
I spent hours talking and listening to his concerns. We brainstormed ideas for his upcoming campaign. In the end, he was so happy and grateful that he signed another contract with our company even before my boss returned from the trip." 
8. Your Salary Expectations? 
The purpose of asking this question is that the interviewer wants to make sure that your salary expectations align with the budget they have set for this role. So, if you do not succeed in giving the right range, your employer might think you do not know your worth. So, here are three approaches to answer this query: 
Find out the typical salary range for that role, then set your lowest acceptable wage at the low end of that range. For example, if you want at least Rs. 100,000 per month, you could offer the interviewer a salary range of Rs. 100,000–Rs. 120,000. Also, let your hiring manager know if you are flexible.  
"My pay expectation is between Rs. XX,XXX and Rs. YY,YYY, which is the average salary in            this city for a candidate with my level of expertise. But I am open to discuss the options." 
Include Negotiation Option

 
It is possible that the company offers extra benefits, bonuses, or payment options in addition to the salary. Answer in the following way: 
" I want a monthly salary between Rs. 100,000 – Rs. 120,000 per month, but I am open to negotiating salary based on benefits, bonuses, equity, stock options, and other incentives." 
If you are still early in the hiring process and do not understand the nature of the job duties and requirements, you might want to defer the question until later in the interview. 
Example Answer: "Before I respond, I would like to ask a few more questions to have a better understanding of the position." That way, I'll be able to provide a more exact estimate." 
9. Why Should We Hire You?
While this question may appear to be an intimidation tactic, interviewers usually ask this to give you another chance to explain why you are the best candidate. Your response should highlight the talents and experience you bring, why you are a good cultural fit, and what you feel you would deliver to the post. 
A better alternative concept you might consider discussing is "culture add," or your capacity to provide new and additive suggestions and feedback to the team. By varying the experiences and viewpoints of its personnel, culture adds strength to the organization. 
In your response, state something like, "I am ideally prepared to thrive in this kitchen manager role because of my expertise in precisely regulating inventory intake and my ability to develop efficient simplified schedules." 
10. Do You Have Any Questions?
This may be one of the most significant questions asked throughout the interview procedure. Why? It allows you to explore any areas that have not been covered and shows the employer that you are serious about the role. 
Remember that you are also interviewing the firm. Take the time to ask the interviewer about their personal experiences with the organization, as well as suggestions on how to succeed if hired. 
Get the Job of Your Dreams
In the end, make sure you respond to each question properly and passionately if you want to make a good impression. But practising first is extremely beneficial. Furthermore, when the competition is fierce, thorough preparation will enable you to present an air of assurance and control that will help you stand out as the best candidate.