Achieve Excellence in Languages and Literature at UCP Lahore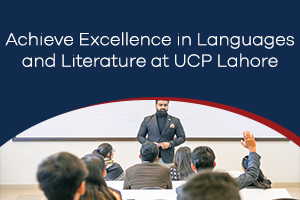 Those students who love the depth and broadness of literature and know the adaptability of languages in today's modern world can pursue their dreams at the renowned institution of Lahore with us at UCP. The faculty of languages and literature is one of the newest additions after certain structural changes across the University of Central Punjab (UCP). This article helps you to explore all the exciting options to earn valuable degrees in linguistics and literature. Furthermore, you can access the admission link at the end of this article.  
About the Faculty of Languages and Literature 
This newly settled faculty is offering various courses in the language and literature field. With highly qualified faculty with eight PhDs on the roll, this faculty has a rich backup that will enlighten your learning experience.  
The curriculum is designed to be cutting-edge and demanding, encouraging a spirit of critical inquiry and the desire to find out about, study, and engage in debates about topics related to languages and literature in the academic and social spheres. For students to develop the independent thinking habits and sense of personal and professional responsibility that employers look for in job prospects in today's labour market, FLL offers a learning environment that is dynamic and interactive. 
Let's explore the degree programmes offered by the language and literature faculty.  
Programmes Offered Under FLL at UCP 
The following programmes are offered at UCP by the faculty of languages and literature (FLL). The faculty is subdivided into two (2) departments.
1. Department of English Literature
2. Department of Linguistics
Degreewise details are available in the content below.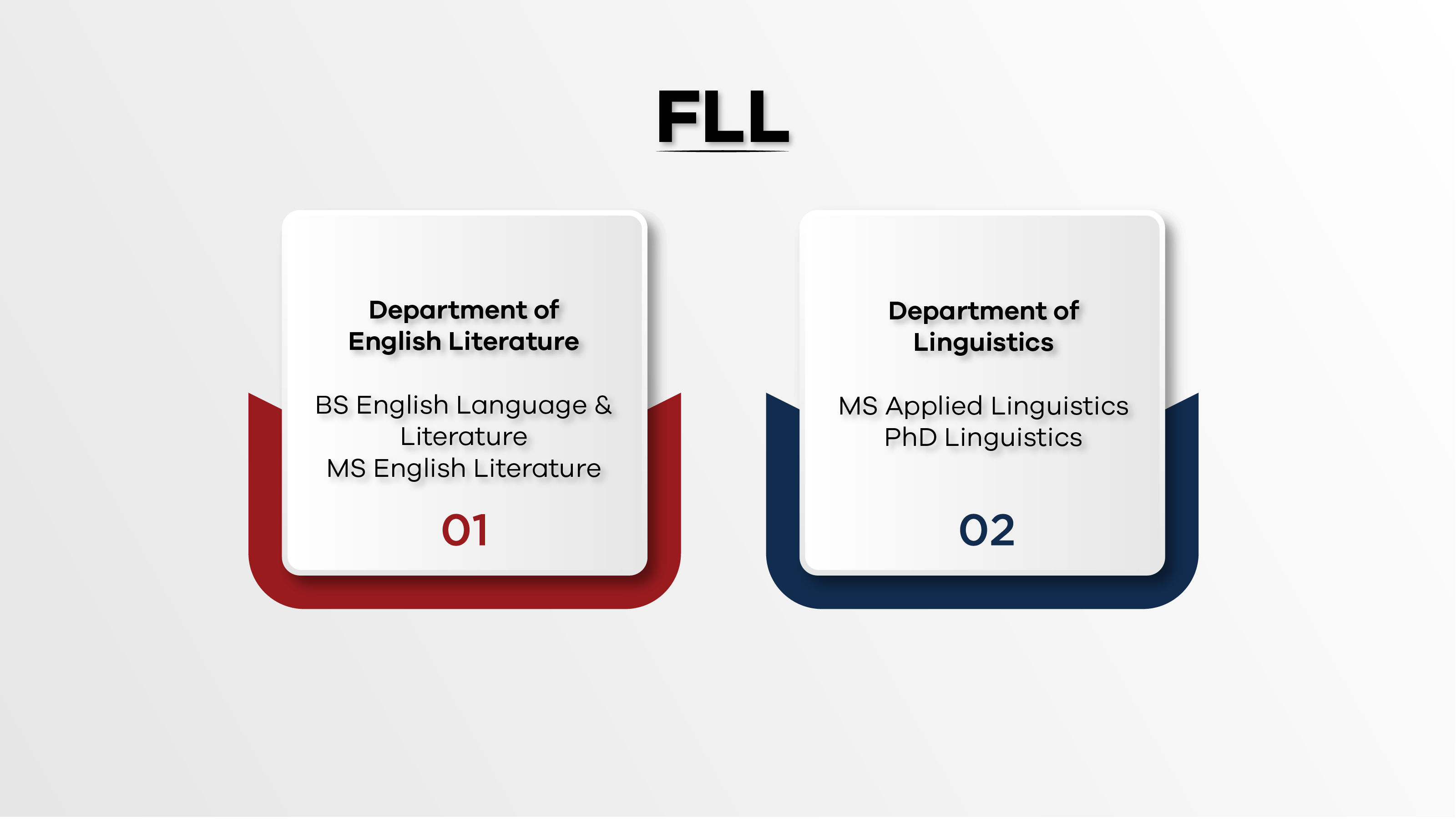 BS English Language and Literature  
A four-year degree programme is offered as a BS English language and literature. This course offers a combination of English, expanding from language to the finest literature. This combination helps to develop skills in media, business, diplomacy, and graduate studies. The criteria for admissions are as follows.  
MS Literature 
Once you complete your four-year bachelor's degree, you can get yourself enrolled in MS Literature. It is essential to have a better understanding of English Literature. The admission criteria for MS Literature at UCP are available here.  
It is important to know that BS English Language and Literature and MS Literature fall under the Department of English Literature, which is a part of the faculty of Language and Literature. At the same time, Linguistics are offered under the Department of Linguistics, under the same faculty. 
MS Applied Linguistics 
The other part of the language and literature faculty is the linguistics department. The MS Applied Linguistics is a degree program for a duration of two years. Core language teaching theoretical and applied linguistics remain the main focus of this degree programme. 
Furthermore, the criteria for MS Applied Linguistics can be seen here. 
PhD Linguistics 
The highest level of education in Pakistan is the doctoral level. Also known as a Ph.D. The University of Central Punjab (UCP) offers a PhD Linguistics programme for students who want to enter the field of education, research, and advanced education.  
The Ph.D. in linguistics encourages students to move fast toward conducting original research by allowing for a high degree of flexibility and specialization. Any of the conventional areas of concentration are available to students, or they can create their own speciality with the aid of their faculty advisor. Graduates of the program are prepared for careers in education, journalism, law, publishing, and the software business, among other professions. 
Admission criteria for a Ph.D. in linguistics are mentioned here.
Benefits of Opting for Degrees in Languages & Literature 
There are numerous benefits of opting for undergraduate and graduate degrees in language and literature in this ever-developing world and international circumstances. Some of the major advantages are listed below.  
Skills After Completing a Degree in Linguistics and Literature  
Development of high-end skills among students. After earning a degree in language and literature, the students will get the following skills.  
Creative Thinking

 

Problem-Solving

 

Polished Verbal Communication

 

The art of discussions and debates

 

Critical Thinking & Evaluation

 

Well-developed knowledge Base of History and Structure of Literature.

 

Someone option for a PhD in linguistics would also have a grip over research and analysing things.

 
Career Possibilities After Opting for the Languages and Literature 
Students with professional languages and literature degrees can choose any of the following careers on traditional and digital spheres. 
Teaching

 

Writing

 

Journalism.

 
Apart from that, degree wise the career prospects are as follows  
Graduates of BS English Language & Literature can choose any one of the following. 
Story Telling

 

Writing

 

Teaching

 

Marketing

 
Holders of MS Literature can choose to opt for Content Writing, Book Publications, PR, Marketing, Journalism and many more. The students can easily win the storytelling lines due to their know-how about literature history and scope.  
MS Applied Linguistics Open Doors For PR, Writing, Law, and News. The students of MPhil or MS are also well-experienced in the research methods and techniques.  
While PhD Linguistics Docs are a must to go to adapt higher education as a career on national and international levels. 
Unique Learning Experience at UCP 
University of Central Punjab (UCP) offers a once-in-a-lifetime experience for students in many ways. Some of the most known factors include the availability of a state-of-the-art campus with full-fledged facilities to make the education journey rich, beneficial, and upfront. The scholarships are also a prominent part of education. However, the students of any degree mentioned above can also get an opportunity to avail themselves of these features.  
Workshop Systems and active Societies to enhance students' Public Speaking and Leadership abilities.

 

Perfect Environment to become leaders, civil servants, analytical professionals, researchers, and economists.

 

A chance to get mentorship from senior bureaucracy for personality grooming purposes.

 
Avail Admissions 2023
Students can avail themselves of a golden chance to earn a professional undergrad and postgraduate degree in languages and literature at UCP in 2023. Our Fall Admissions are on the roll. Apply through the online admission portal and start your journey of success in your city of Lahore.  
At the End 
UCP offers various degrees in languages and literature. Admissions for Fall 2023 are open. Apply today, as missing opportunities is nothing to be proud of.