Bring Out the Novelist & Poet in You by Studying BS English Literature at UCP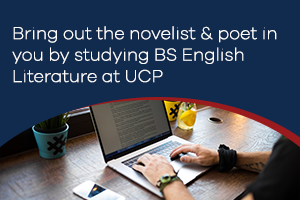 Do you love writing and want to be a novelist or a poet? BS English literature at UCP will help you achieve this goal. The University of Central Punjab offers a four-year English language and literature program to develop knowledge of various genres and forms of literary expression.  
In addition, if you choose to study English Literature at UCP, you will learn about literary movements and different writing and critical analysis techniques. Furthermore, you will study how all of these aspects have influenced how we interpret literature in the modern world. 
The course will allow you to explore the world of literature through a variety of novels, plays, and poems. Thus, learning English literature opens the door to a whole new universe of creativity and inspiration. 
How Does BS English Literature Bring Out the Novelist and Poet in You?
The program's goal is to help you learn to critically read and understand linguistics and literary works in their historical, sociopolitical, cultural, and philosophical aspects. Furthermore, the course incorporates frequent reading and writing assignments along with class discussions. Why?  
This is because we want you to develop an understanding of linguistic and rhetorical skills that will help you in your practical life. The following are the ways through which the University of Central Punjab assists you in fulfilling your dream: 
Develop Your Own Style of Writing
While studying English literature at the best university for BS English in Lahore, i.e., UCP, you will study subjects like Global Poetry, Advanced English Writing, Study Skills, etc. In addition, you will study the masterpieces of great writers and learn from their styles of writing.  
You will learn not to imitate the styles and formats of former poets and novelists. Rather, you will create your own distinctive pieces of writing that solely depict who you are. Thus, at UCP, you will polish your skills and develop your own style.   
Helps Spark Original Ideas
Studying BS English Literature at UCP will result in you coming up with more interesting ideas of your own. How? You may find yourself studying a novel for your class assignment and thinking about what it would be like to change some of the plots. You will be encouraged to put them in the present day or tell the story from a different point of view that is typically overlooked in that particular genre.  
Develops Critical Analysis
The course will develop your critical thinking abilities. How? You will have the task of reading novels and giving your point of view in thorough class discussions. Thus, you will have to do a critical analysis of the novel before you present your points in class.  
Fosters Intellectual Curiosity
UCP is the best university for BS English Language & Literature because it will prepare you to read between the lines. Thus, while studying this course, you will come across subjects like Classical Poetry, Modern Poetry, Modern Poetry, Modern Novels, etc. Consequently, you will learn to decipher the intent, meaning, and message of the author. This will result in developing curiosity and broadening your thinking to new ideas.  
Strengthen Your Writing Skills
Studying literature at UCP will not only broaden your vocabulary but also teach you how to write clearly and concisely. This means that you will be able to write, utilizing appropriate paragraph formats, grammar, and clear, flowing sentences that are simple to understand. 
Through literary theory and practice, you will learn how to convey your message concisely and effectively express ideas and arguments. These abilities will help you improve your writing and verbal communication skills for all future career opportunities. 
Expands Your Imaginations
You will be challenged to think outside the box and explore parts of your imagination you never thought possible. This will result in: 
Broadening your thinking

 

Motivating you to produce fresh ideas

 

Allowing you to reach innovative conclusions

 
In addition, we all know that the creative industry is the fastest-growing area of the economy. According to research, the creative economy might grow up to 40%. This will result in 8 million new employments.  
Employers in all industries value creativity in order to improve products, services, and processes that cannot be automated by robots. This is where they need you. Thus, at UCP, you will be prepared in order to meet the industry's needs.  
The Final Thoughts
The world is evolving and the new generation does not dream of becoming a doctor or an engineer only. This is a world of emerging creativity where students think of pursuing fields of art and literature. Thus, the  English literature at UCP is a bachelor's program for students who want to be novelists or poets. Join us to make your dreams a reality.