BS Admissions: Why Choose UCP for Undergraduate Studies in 2023?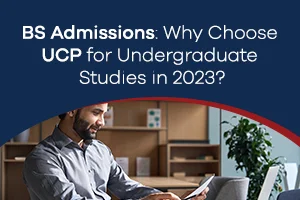 In this article, you will get all the information regarding the University of Central Punjab's spring 2023 BS admissions and why UCP is the best institute for undergraduate programs.  
Students at UCP come from all around Pakistan and represent diverse social, cultural, and economic backgrounds. UCP aims to encourage multidisciplinary research on its campus and offers a wide range of BS programs to allow students to choose from an endless array of courses.  
So, if you want to be a part of the UCP community, their BS admissions for spring 2023 are now open. Apply right now.  
7 Key Reasons to Choose UCP for Undergraduate Studies
We have described that spring 2023 BS admissions are going on. But why should you choose UCP and not any other university? There are so many reasons why UCP is the best choice for your bachelor's or post-graduate studies. Let us describe them in detail.  
1. Purpose-Built Campus
The university's campus is fully equipped to provide you with every educational facility. It comprises three buildings with 6 boardrooms, a webinar room, an auditorium, etc. The campus has 173 classrooms and hygienic cafeterias where you can socialize with your friends. 
Additionally, parking facilities are available at all three buildings. Similarly, they want you to feel comfortable and secure on university grounds, which is why their security personnel are always stationed at the campus gates.  
2. Experienced Faculty
UCP takes pride in its trained and experienced faculty. Therefore, for any course you choose to enroll in, you will be studying under the guidance of our qualified instructors, who have years of experience in the subject.  
Furthermore, their cutting-edge teaching methods will provide you with the necessary information and skills. Therefore, by the time you graduate, you will be completely ready for the professional world. 
3. Extensive Curriculum
In the fields of science and technology, innovations are always being made. UCP has designed the HEC-approved curriculum in such a way as to keep you informed on the most recent events. 
So, no matter which program you choose, you will be informed about the current situation in that field while studying there. So, do not miss out on the opportunity, and apply for spring BS admission in 2023. 
4. Facilities 
UCP offers a wide range of facilities including educational and extracurricular. These are as follows: 
1. Advanced Laboratories
The University of Central Punjab has 78 modern engineering, information technology, pharmacy, and science laboratories that you can benefit from. The goal is to improve your knowledge through experiments and provide you with hands-on experience. So, apply to BS admissions right now.  
2. Library
You have access to a fully equipped library at UCP that has 40,000 textbooks on a variety of topics. It also includes 2350 reference books. These include dictionaries, encyclopedias, handbooks, and directories. In addition, you will get access to research databases that will help you with final-year research. 
3. Sports Complex
At UCP, there is a sports complex. It has a gym that is divided into parts for men and women. There is also a 25-yard swimming pool available. You can play Tanis ball and foosball in this well-structured sports complex.  
4. Girls' Hostel
Outstation students can stay at the UCP girls' hostel. There are 216 residential rooms in the hostel building, each with a table and chairs where you can work and study for exams and assessments. Similarly, there is a prayer room, a kitchen, a 24-hour power supply, and other amenities to make your stay more comfortable. 
So, if you want to study at UCP but do not live in Lahore, you can apply for residence in the girl's hostel. Go ahead and apply for UCP spring BS admissions in 2023. 
5. Societies and Clubs
UCP offers a variety of groups and clubs that you can join to give you a vibrant campus life in addition to an education. You can discover your hidden talents by joining these societies: 
Debating Society

 

Character Building Society

 

Disaster Management Society

 

UCP Media Club

 

Plektra- Music Society

 
6. Scholarships and Incentives
Our goal is to encourage hard-working and outstanding students. That is why we provide our students with a variety of scholarships. Similarly, if you need financial assistance to pay for your education, you can always apply for a scholarship.  
But you need to be a part of our community to do that. Applying to one of our programs at UCP will make you one of them and the good news is that BS admissions are open. So, go for it right now.  
Alumni Scholarships

 

Merit-based Scholarships

 

Kinship

 

Need-based Scholarship

 
And the list goes on.  
UCP Spring 2023 BS Admissions Are Now Open!
Apply to the University of Central Punjab's BS admissions right now and learn from the best town.  
For more information, please contact them at info@ucp.edu.pk.