BS Microbiology: A Complete Guide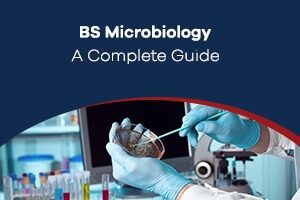 If you are interested in the world of tiny organisms, you may want to consider a degree in BS microbiology. Microbiology is the study of microorganisms such as bacteria, viruses, fungi, and protozoa.  
Microbes are all around us and can be found in soil, water, food, and even on our skin. A degree in microbiology can open doors to various career paths related to the study of microorganisms. In this article, I will discuss what is a BS in microbiology, what is the scope of BS microbiology in Pakistan, and the job opportunities available for graduates. 
What is a BS in Microbiology?
A Bachelor of Science (BS) in microbiology is an undergraduate degree program that focuses on the study of microorganisms. This BS microbiology degree program typically takes four years to complete.  
Furthermore, it provides students with a strong foundation in microbiology, biology, chemistry, and related sciences. So, students pursuing a BS microbiology course will have opportunities to conduct: 
Laboratory experiments

 

Research

 

projects related to microorganisms 

 
In addition, the degree program also provides students with critical thinking, problem-solving, and analytical skills that are highly valued in various industries. 
What is the Scope of BS Microbiology in Pakistan?
Pakistan has a significant demand for microbiologists due to the country's diverse environmental conditions. As a result, it provides a range of opportunities for the growth and development of microorganisms.  
So, in Pakistan, BS microbiology is offered at various universities and colleges. The degree program's curriculum is designed to provide students with the necessary knowledge and skills to work in different fields related to microbiology. 
Graduates of a BS in microbiology program in Pakistan have opportunities to work in various sectors, including: 
Pharmaceutical industry

 

Food industry

 

Environmental agencies

 

Healthcare industry

 

Research and development

 
Job Opportunities for BS Microbiology Graduates
A BS microbiology degree can lead to various job opportunities in Pakistan. Some of the popular job roles available for you as a BS microbiology graduate include: 
Microbiologist

 

Quality Control Analyst

 

Research Assistant

 

Environmental Microbiologist

 

Clinical Microbiologist

 
Which University to Go to for the BS Microbiology Program
If you are a student who is interested in studying microbiology and looking for a university that provides the best education, then the University of Central Punjab (UCP) should be your top choice.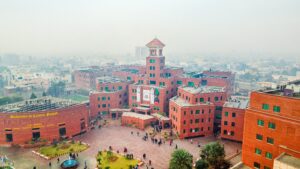 UCP is a renowned university in Lahore, Pakistan, that is known for its quality education, excellent facilities, and experienced faculty. UCP is the best place for BS Microbiology for several reasons: 

1. Experienced Faculty
We take pride in having a team of professional faculty members who have years of experience in their respective fields. They have extensive knowledge of microbiology and are dedicated to providing the best education to their students. 
2. Modern Facilities
Another reason why UCP is the best choice is the modern facilities we offer. These facilities are designed to enhance the learning experience of its students. The university has well-equipped labs, libraries, and classrooms that provide a conducive environment for learning. 
3. Research Opportunities
UCP provides research opportunities for its students. It enables them to gain hands-on experience in the field of microbiology. We also have a research center that is equipped with the latest technology. So, you can conduct research under the guidance of experienced faculty members. 
4. Industry Connections
Another reason to choose us is that we have strong industry connections. What does it mean? It means that our students have access to job opportunities in reputable companies. The university also invites guest speakers from industry to give talks and share their experiences with students. 
5. Facilities Provided by UCP to its Students
The University of Central Punjab provides several facilities to its students that are designed to enhance your learning experience. Some of these facilities include: 
a. Libraries
We have two libraries on our campus. These libraries are well-stocked with books, journals, and other reading material. In addition, you will experience a quiet and conducive environment for students to study. 
b. Labs
UCP has state-of-the-art labs that are equipped with the latest technology. The labs provide students with hands-on experience and enable them to apply the theoretical concepts they have learned in class. So, you will be performing practicals during your BS microbiology course.  

c. Sports Facilities
We also have sports facilities that include a gymnasium, basketball court, and football field. The facilities are open to all students and provide a healthy and active lifestyle. 
d. Student Societies
UCP has several student societies that provide opportunities for students to pursue their interests outside of the classroom. These societies include debate, drama, and photography societies, among others. 
6. UCP Hostel
UCP provides hostel facilities to its female students, which are designed to provide a comfortable and secure environment. Some of the facilities in the UCP hostel include: 
a. Air-conditioned rooms
The hostel rooms are air-conditioned and provide a comfortable environment for you to study and rest. 
b. Dining Hall
The hostel has a dining hall that provides students with healthy and nutritious meals. The meals are prepared by experienced cooks and are designed to meet the dietary requirements of students. 
c. Security
The hostel has round-the-clock security that ensures the safety and security of students. The hostel also has CCTV cameras that monitor the premises. 
Subjects Covered in BS Microbiology
BS Microbiology is a four-year degree program that covers several subjects related to microbiology. Some of the subjects covered in BS Microbiology include: 
Microbial Physiology and Metabolism

 

Microbial Genetics

 

Microbial Ecology

 

Microbial Biotechnology

 

Immunology

 

Virology

 

Medical Microbiology

 

Industrial Microbiology

 
Join UCP for BS Microbiology in Lahore
Our fall admissions 2023 are now open. Apply online right now and get your spot secured in our BS microbiology program.