BS Microbiology: Importance, Scope, Career Outlook, and Future!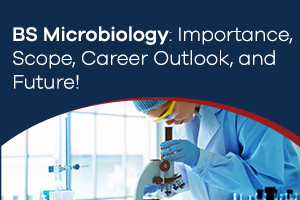 Do microorganisms excite you? Do you want to understand more about the world of tiny living organisms? Then, BS microbiology is the right degree for you for your bachelor's. In this article, you will learn everything that you need to know about microbiology before choosing it as your profession.
What is BS Microbiology?
BS microbiology is the study of microscopic organisms, or living things, that are too small to be seen with the naked eye. These living organisms can only be viewed using a microscope. These living things are known as microorganisms or microbes.
Microorganisms include:
Bacteria
Archaea
Viruses
Protozoa
Microscopic fungi
Yeasts
Microscopic algae
So, the BS Microbiology course focuses on all aspects of these microorganisms, including their behaviour, evolution, ecology, biochemistry, and physiology, as well as the pathology of diseases caused by them.
Importance of Microbiology 
Our daily lives involve the use of microbiology. Microbiology is used in many aspects of daily life, including food production, biodegradation, the manufacture of commercial goods, and genetic engineering.
Let's look at some examples.
Microorganisms are required for the production of curd and cheese.
Bacteria are necessary for the production of yoghurt
Yeast is used to making bread.
Additionally, only the microorganisms in the human body can manufacture vitamin k.
Bacteria are employed to produce commercially valuable products like hydroxybutyric acid, which is used to make plastics and disposable diapers.
Thus, the science of microbiology aims to expand our fundamental understanding of microorganisms through research into their morphology, metabolism, physiology, reproduction, and genetics. All of these examples explain how studying BS microbiology is important in our society for the advancement of a variety of fields.
Scope of BS Microbiology in Pakistan
While many students frequently wonder whether microbiology has any applications or job possibilities in Pakistan, The reason is that employment is one of the main issues for those who wish to study microbiology. Well, do not worry at all. In Pakistan, a career in microbiology is one of the most promising and well-paying options.
The field of microbiology is expanding daily in Pakistan as a result of recent scientific and technological advancements. This makes BS microbiology one of the top areas to study science. It has a very demanding scope and is becoming more and more popular over time.
In addition, many microbiologists choose to work in offices or research facilities, which might be in the private or public sectors. While most microbiologists focus on a specific area of microbiology, including bacteriology, parasitology, virology, etc.
However, a lot of microbiologists normally contribute to the advancement of science in some way. Furthermore, you can also use your knowledge to enhance medical industry outcomes. A microbiologist can readily find work in any of the following sectors.
Pathology Labs
Biotechnology Firms
Chemical Industries
Veterinary Labs
Food and Nutrition based Companies
Poultry Industries
Beverages Industries
Pharmaceutical Firms
Dairy Farms
Agriculture Sectors
Research Departments
Consulting firms
What Does a Microbiologist Do?
With a BS microbiology, you can work in different fields such as:
Research
Microbiology researchers are explorers, making discoveries, gaining new information, and using it to solve issues in the real world. So, you will aim to answer scientific questions that no one else has solved previously by conducting experiments.
Your research tasks will include:
Drafting proposals for grant money or experiment approval
Devising and carrying out experiments.
Evaluating data
Presenting findings at scientific conferences and publishing findings in journals.
Teaching
You can work as a teacher or professor and teach different subjects to students. Also, while directing students through experiments and maintaining the educational laboratory in excellent working condition, you will be teaching the practical parts of a number of courses as a laboratory instructor.
College and university teaching involves a variety of duties, including:
Designing lessons
Supervising laboratory activities and educating students
Writing and marking examinations
Counselling students
Diagnostics
Diagnostic microbiologists work in clinical laboratories at hospitals, public health laboratories, private medical or veterinary diagnostic laboratories, and private companies. In hospitals and laboratories, you will be performing tests on human or animal samples sent in by doctors or veterinarians.
Thus, by detecting whether the bacterium is susceptible to antimicrobial drugs like antibiotics or resistant to them, you will be assisting a clinician or veterinarian in making treatment recommendations for a human or an animal.
Biosafety
Biosafety professionals ensure that work in clinical and research laboratories is done safely and in accordance with all federal, state, and local standards and recommendations. So, your responsibility will be to prevent employee harm or infection as well as the escape of microorganisms and other biological agents from the laboratory.
Furthermore, you will achieve this by:
Providing safety rules and procedures
Instructing researchers and clinical laboratory workers
Providing laboratory design advice
Food Microbiology
As a food microbiologist, your duties will vary and include:
Analyzing samples taken from food processing facilities using microbiological techniques to identify potential contaminant sources
Developing new techniques to find pathogenic microorganisms in food products through research.
Obtaining information from food producers on the types of bacteria that might be present in their products and how these organisms might affect the shelf life.
Examining samples obtained from food-processing industries to find potential contaminant sources
Figuring out the kinds of bacteria that are present in a sample of the food and assessing the threat they pose to human health.
Environmental Microbiology
With a BS microbiology degree, you can work in the role of an environmental microbiologist. Your tasks and duties will include:
Studying the interactions between as well as among microorganisms and their environment. Exploring the use of microorganisms to clean up heavy metal-contaminated areas.
Researching how bacteria might promote crop development.
Exploring the use of microbes to clean up oil spills or other contaminated places.
Using organisms that flourish in specific components to generate medicines, topical sunscreens, and water purification solutions.
Fermentation Technology
Fermentation technologists are in charge of producing fermented foods and beverages. So, by completing your BS microbiology program, you can work as a fermentation technician. Your tasks and duties will include:
Making sure that the fermentation process to make sure it goes as planned.
Creating new methods or tools to boost fermentation processes' effectiveness or quality.
Establishing and upholding fermentation cultures and media in a sterile setting while adhering to standard operating procedures (sops) for sanitation and hygiene practices
Analyzing how environmental factors like temperature and acidity levels affect the growth and proliferation of microorganisms during fermentation processes
Evaluating microbial activity in a lab during fermentation processes to make sure the process is going smoothly
Biochemist
As a biochemist, you will analyze bodily fluids such as blood, urine, cerebrospinal fluid, and others to identify any disease-causing organisms present so that a diagnosis can be established.
Immunology
Instead of using synthetic pharmaceuticals to cure an illness, your work involves studying the immune system of the body and developing new medications that work to strengthen the immune system. So, with a BS microbiology, you can work as an immunologist. In hospitals, medical research facilities, pharmaceutical firms, etc., immunologists have high career growth prospects.
Toxicology
This is one of the many fields you can opt for as a profession after obtaining a degree in BS microbiology. Your responsibility will be to research the effects of toxins produced by particular microbes on living things.
Salary of a Microbiologist
The average salary of a microbiologist in Pakistan is PKR 420,000 per year. However, you can improve your monthly wage by gaining experience and polishing your skillset.
Future of Microbiology
The future of microbiology is promising. New opportunities have emerged as a result of social and scientific shifts in the study of infectious disease, microbial ecology, plant and animal pathology, and biotechnology.
These developments offer to improve human life and the health of the environment. Technology advancements and changes to education and training will accelerate the progress of these creative activities.
Get Your Best BS Microbiology Degree in Lahore 
There are many universities that offer a bachelor's program in microbiology. However, the best university in Lahore for gaining a BS microbiology is the University of Central Punjab. 
UCP has a history of excellence and provides you with every educational facility. Their microbiology course is up to date and the course includes a modern curriculum. In addition, you will be studying under the supervision of highly qualified professionals who have years of experience in the field.
In addition, the campus has state-of-the-art laboratories where you will be putting theoretical microbiology concepts into practice. Thus, you will gain hands-on experience and better practical exposure. So, you will be fully prepared when you enter practical life and start your career as a competent microbiologist.
UCP also offers a vibrant campus life with so many societies and clubs that you can be a part of. Thus, you will not only be studying but also enjoying your university life.
So, enroll yourself in BS microbiology at UCP now.