What can you do with BS Chemistry in Pakistan and Abroad?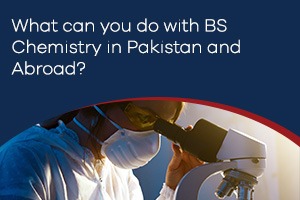 BS Chemistry is one of the traditional degrees in physical sciences in Pakistan and on the international spectrum. Therefore, a four-year degree in Chemistry will empower you academically and in the scope of career opportunities and job perspectives. (UCP) The University of Central Punjab is offering BS Chemistry in 2023 for those who want to excel in this field.  
Academic Scope of BS Chemistry Offered at UCP  
There is a famous quote by Blake Shelton- "One thing that you can't fake is chemistry." Hence, studying chemistry opens the universe to you.  
UCP follows the curriculum approved by the Higher Education Commission's (HEC) educational authority. The students will earn a BS Chemistry degree from the University of Central Punjab.  
The duration for the BS degree is four years, which is subdivided into eight semesters. Hence, we offer a comprehensive course collection ranging from functional English, communication skills, and computers to animal diversity, cell biology, genetics and evaluations. The diversity of plants is also addressed in this degree module.  
In addition to the natural sciences, linguistics, and the latest trends of the subject, BS Chemistry also includes analytical chemistry and specialisation courses. To watch out for complete course details and fee plans, you can visit Course Curriculum.
Skills You Will Learn During the Degree 
Learning anything develops a certain skill set in the learners. The students of BS Chemistry are also expected to develop a specifically prominent skill set with respect to physical sciences and soft skills. Some of the resulting skills are as follows. 
Students get knowledge on how to conduct investigations using cutting-edge instruments and technology.

 

Students gain the skills necessary to critically evaluate chemical knowledge, synthesise it, and deliver it to a technical audience.

 

Chemistry majors develop their skills in data analysis and laboratory work.

 

Chemistry majors use chemical concepts to address both qualitative and quantitative issues.

 
Apart from these hard, degree-related skills, working on certain soft and technical skills is advantageous to get an early entry into any profession. Your faculty professors are the best resource to get insights on what is market demand. Furthermore, you can take help from the internet, discussion forums, and research papers.
Job Sphere After BS Chemistry  
Chemistry is the most demanded subject around the globe. This results in national and international opportunities when it comes to career development. You can also pursue a degree internationally for advanced education or specialisation. Also, you can opt for career opportunities as per your preferences. The benefits of pursuing Chemistry after a BS abroad are penned down.   
However, in the following list, you will thoroughly examine the job opportunities you can have after completing BS in Chemistry from the University of Central Punjab (UCP).  
Chemist

 

Laboratory Technician

 

Medical Laboratory Scientist

 

Geo Chemist

 

Pharmaceuticals

 

Organic Chemist

 

Forensic Chemist

 

Chemical Engineer

 

Toxicologist

 

Agricultural Chemist

 

Environmental Professional

 

Teacher/ Lecturer/ Professor in Chemistry

 
It is always a great idea to make an end goal in your mind before you start your professional degree. With the passage of time, you can work on certain skills that are the market prerequisites for the career of your choice.  
A professional degree opens the door to reach there, but efforts on skills development and learning are part of students no matter where you compete.

Study BS Chemistry with Following Benefits 
University of Central Punjab (UCP) could be your best decision to pursue the four-year-long degree. The reasons are described below.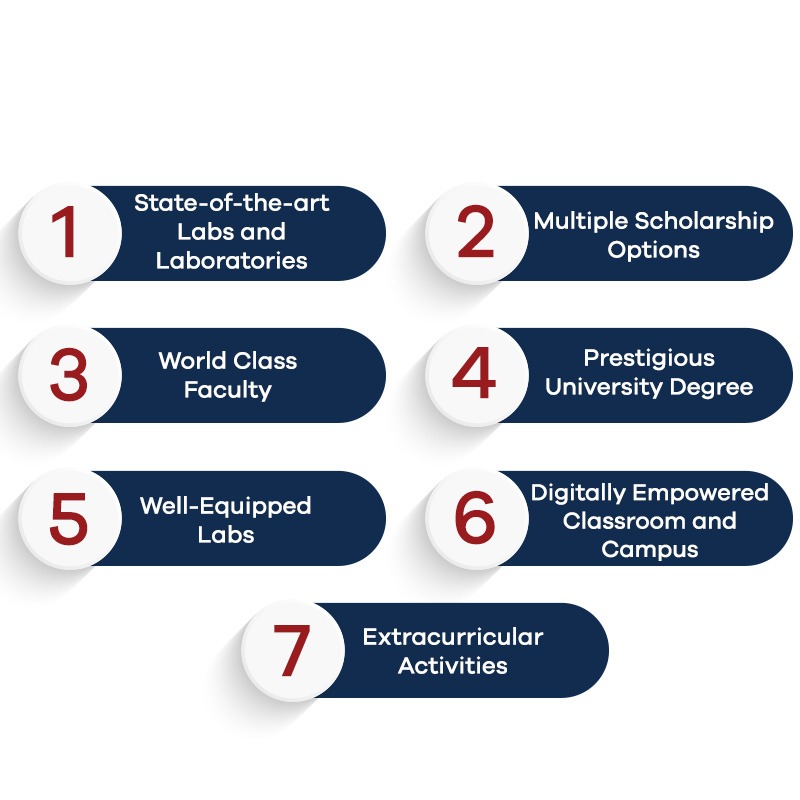 State-of-the-art Labs and Laboratories

 

Multiple Scholarship Options

 

World Class Faculty

 

Prestigious University Degree

 

Well-Equipped Labs

 

Digitally Empowered Classroom and Campus

 
All these facilities offer an enhanced learning experience for students to learn BS Chemistry in their truest sense.
Take Admission to UCP in 2023 
UCP is receiving applications for BS Chemistry 2023 now. You can apply ONLINE. The benefit of studying with us is the experience of gaining knowledge, practical skills, exposure and facilities under one roof.
Conclusion 
If you are interested in Chemistry as a subject and want to pursue it as a profession. Then, BS Chemistry is your best decision to make. UCP is accepting applications for Fall Admissions 2023 right now.