Data Science at UCP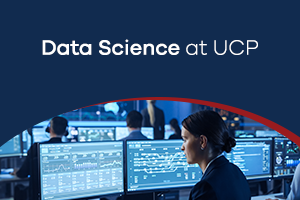 Do you know that we have created around 2.5 quintillion bytes of data daily in 2020? And just for your information, there are 18 zeros in a quintillion. Moreover, we will be generating 436 exabytes of data each day by the year 2025. Yes!!! Let that sink in.  
But the question is, how do we use this data? What is the purpose of collecting it? Is it beneficial for us? Are there any real-world applications for collecting all this data? These queries come under the domain of data science.  
Data science has become so popular over the years. Most companies have started using it to expand their business and enhance customer satisfaction. This field has grown so much that it is essential to learn about it. So, the degree programs in Data Science at UCP are structured in a way to help you achieve a successful career in this field.  
However, first, let's look at in detail what exactly data science is and how we can make the most out of this field.  
What is Data Science? 
In data science, we extract information from raw data and create useful insights. By combining different tools, machine learning concepts, and algorithms, you can extract hidden patterns from raw data.  
However, digital data is the most important type of data in this field. From your daily route to what you ate in a restaurant, every piece of information is essential for data scientists. After completing your BS and MSc data science degrees from UCP, you will be able to look for connections and patterns in data.  
Why Data Science is Important?
Data science does not only have benefits in the world of business. Rather, it affects every aspect of our life. Therefore, after doing a bachelor's or a data science master's program from UCP, you can make a positive impact on society.  
Let's look at how you can pursue your career as a data scientist in different fields after doing data science at UCP.  
Business 

 

Finance

 

Information Technology

 

Operational Management

 

Healthcare

 

Academia

 

Sports

 
Business
After completing your graduate or post-graduate degree from the best university for data science; UCP, you will help businesses make efficient strategies. Moreover, you will provide them with information regarding customer behaviors, market trends, and competition.  
As a result, the companies will make better marketing plans and less flawed decisions.  
Finance
You will aid the finance department in handling financial risks proficiently. In addition, you can help them detect any kind of illegal transaction. As a result, you will be playing a major role in making your country grow stronger.  
Information Technology
Cybersecurity is very important in this era of the digital world. So, After the completion of your program in data science at UCP, you will be trained to assist in blocking cyber-attacks. In addition, IT organizations will need your expertise to manage any security threats.  
 Operational Management
You can improve supply chains, product inventories, distribution networks, and customer service as a data scientist. Also, you can make better planning, purchasing, and quality control. As a result, this will help your company enhance customer satisfaction.  
Healthcare
The applications of data science are not only restricted to the business world; they go beyond. As a data scientist, you will be helping the medical world as well. From diagnosing medical conditions and medical research to treatment planning, you will a major role. Thus, you will make people's lives easier and better.  
Academia
We all know that without good education institutes, we as a nation cannot grow. So, the academic world is not behind and uses data science to improve students' performance. Thus, you have a big part in monitoring students and creating a better future.  
Sports
We need data scientists everywhere including the sports industry. In addition, sports teams use data science to analyze the performance of their players. Moreover, the skills you learn with your data science degree can be utilized in planning strategies and winning competitions.  
Promising Future of Data Scientists
If you are still wondering whether you should opt for data science at UCP or not, let us make it even easier for you. Do you know that, according to Forbes and Glassdoor, there will be a 28% increase in the demand for data scientists by the year 2026? That means this career has a promising future.  
Thus, you can have a highly rewarding career and a bright future in the field of data science. You can stop your search for the perfect career and choose this field to excel in practical life.  
The Final Thoughts
There is an increasing need for data scientists all over the world. Moreover, the field is relatively new and still, there is a lot to be discovered. That is why there is more learning exposure in this fast-growing domain.  
The University of Central Punjab is offering the best graduate and post-graduate programs in data science in Lahore. Our vision is to create a generation of tech-minded individuals. Thus, we can play our part in the development of our country by using this vast field.  
Become a top-notch data scientist and join a group of highly paid professionals. For more information regarding fees, admission criteria, and admission dates, you can reach out to us at  info@ucp.pk . Also, you can call us at +92-42-35880007 if you have any questions.