Earn Advanced Degrees in Pharmaceutical Sciences at UCP in 2023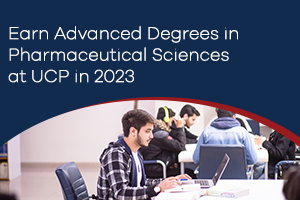 Pharmaceuticals work for the improvement of medicines. Therefore, it is crucial that we produce highly qualified, trained, and equipped students' lot for the medical world. Hence, the University of Central Punjab (UCP) offers various options for M.Phil. and Ph.D. programmes in pharmaceuticals. This article will help you explore the options with pharmaceuticals after completing PharmD and more. Let's start. Oh yes, in the end, you will also get the direct link to the admission portal for our fall admissions 2023.  
M.Phil. Pharmacy (pharmaceuticals)

 

M.Phil. Pharmacy (pharmaceutical chemistry)

 

M.Phil. Pharmacy (pharmacology)

 

PhD Pharmaceutics

 
Let's discuss this in the text below. The professionals with PharmD, MPhil in pharmacy and PhD are greater in demand, due to their skills in research and development.  
M.Phil. Pharmacy (Pharmaceuticals)
The M.Phil. Pharmacy stands tall on the ideology of providing leadership in advancing the quality of pharmacy education on all levels. The display of this though process is visual across all the activities of the pharmaceutical industry.  
The programme comprises core courses and specialisations. In addition, the research thesis is a mandatory part of this degree.  
The course curriculum is available here on the website. You can make quick access to it through this link.  
M.Phil. Pharmacy (Pharmaceutical Chemistry)
The pharmaceutical field is vast and expanded. It has undergraduate, graduate, and postgraduate programmes. Drug discovery and design are related to the new and existing molecules. Furthermore, stability analyses of drug formulations, investigation of novel drug development techniques, and validation of these techniques, including quality assurance measures, are the prominent parts of pharmaceutical chemistry.  
The M.Phil. Pharmacy (pharmaceutical chemistry) course is also divided into core courses, specialisation courses, and research work. The course details are in complete alignment with the course outline as per the regulatory bodies.  
M.Phil. Pharmacy (Pharmacology)
The faculty of pharmaceutical sciences is fully aimed at developing undergraduate and postgraduate research laboratories. Students become equipped to perform a wide variety of tasks, as mentioned below, at private and public institutions.  
This degree also enables the students to collect data and research on their own. In this way, it becomes easy for students to add to the academic literature. Furthermore, the following tasks are readily available for students who graduated with this degree.  
Clinical Pharmacist

 

Pharmacology Research

 

Pharmacologist in a Drug Testing Lab

 
The curriculum and other details relating to the M.Phil. Pharmacy (Pharmacology) is available here, on the UCP website.  
PhD Pharmacy (Pharmaceutics)  
After students have completed their M.Phil., they can either go for PhD or can enter the professional field. Just like the other degree programmes, the University of Central Punjab (UCP) proudly and diligently offers a Ph.D. in pharmaceutics. The details of this programme are available here.  
The Ph.D. in Pharmaceutics has three semesters and a thorough research and thesis. The course details and eligibility criteria are mentioned on the webpage.  
However, Ph.D. Pharmacy opens the door for brilliant minds in the following professional fields.  
Research Scientist

 

Formulation Scientist

 

Regulatory Affairs Specialist

 

Quality Assurance Manager

 

Academia and Teaching

 

Drug Delivery Specialist

 

Pharmaceutical Consultant

 

Entrepreneurship

 
Prominent Features Of the Faculty of Pharmaceutical Sciences (FOPS) at UCP
UCP initiated its Faculty of Pharmaceutical Sciences (FOPS) back in 2011. The major goal that has remained so far is to produce well-equipped professionals to serve the national and international segments of pharmacy on a broad level.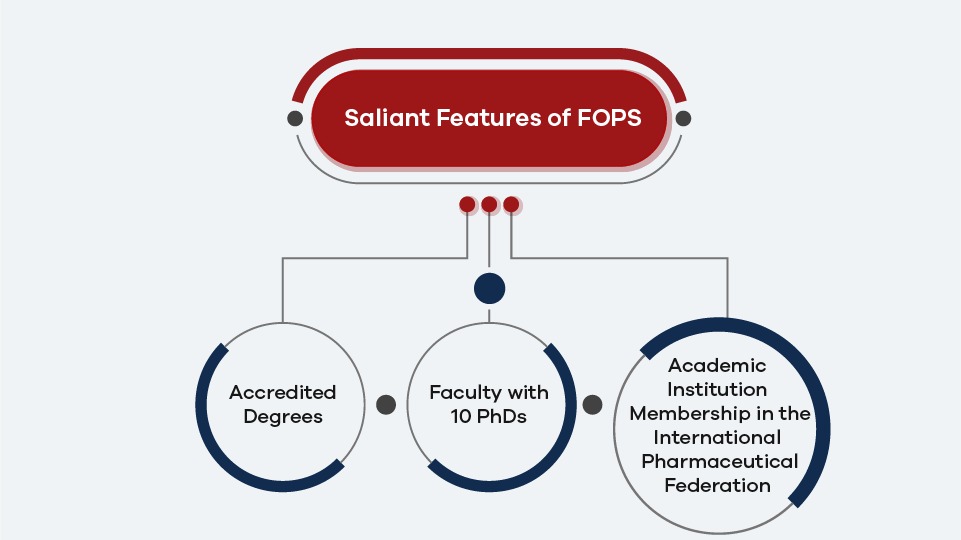 Our students are trained and learned enough to work across the pharmacy industry, including hospitals, communities, forensic sciences, drug test laboratories, and the Drug Authority of Pakistan (DRAP).  

 

We have a highly qualified faculty at FOPS with 10 PhDs in various pharmaceutical disciplines. Moreover, at UCP, you can enjoy state-of-the-art facilities, scholarship options, and more. However, while keeping our focus on the pharmaceuticals, you should learn about the following salient features.

 

We are accredited by the Higher Education Commission of Pakistan (HEC) and the Pakistan Pharmacy Council (PCP).

 

We have Academic Institution Membership in the International Pharmaceutical Federation (FIP-AIM).

 

Facilities for advanced research for undergraduates, graduates, and postdocs are duly available.

 

Moreover, the faculty is well-qualified and trained enough to teach with different effective teaching methodologies.

 

Furthermore, we have eleven well-equipped labs for our students to do practical learning.  

 
Take Admission in the Desired Programme of Pharmaceuticals at UCP
We are glad you are still connected with us. It displays your keen interest in doing an MPhil or PhD degree in the faculty of Pharmaceutical Sciences. Fall admissions 2023 are open, and before the seats are full, apply today through the online admission portal of UCP.  
Conclusion
Apply today at UCP for professional and accredited degrees in MPhil and PhD in pharmacy, also known as pharmaceuticals. The admissions 2023 for fall are on the go. We are looking forward to the growth of professional pharmaceutical scientists in Pakistan.