Empowering Women to Change the World via Higher Education & Equal Representation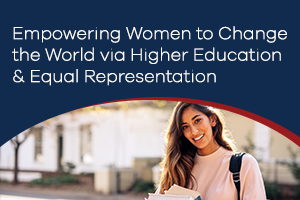 The primary issue for decades in third-world countries is gender inequalities in education, health, individual freedom, and other areas. This gender gap has always favoured men and has suppressed women in all areas of life.  
Both explicit and implicit values, norms, and regulations have placed unequal powers and obligations on men and women. Furthermore, women in developing countries face unequal duties in securing food, water, energy, and other essential resources.  
In addition, they also have the whole responsibility of taking care of the young and elderly in their homes. As a result, women are at a greater risk of adverse global implications.  
Gender Equality
Gender equality means that men and women have equal power and chances for financial freedom, education, and personal growth. Women's empowerment is an important factor in achieving gender equality. 
It includes enhancing the following things in women: 
A woman's sense of self-worth

 

Decision-making capacity

 

Access to basic resources

 

Authority and control over her own life, both inside and outside of the house.

 

Ability to influence the progress

 
Education is a major concern in this area. Despite progress toward gender equity in education, girls continue to outnumber boys in the out-of-school population. 
Education to Empower Women
In developing countries, 35% to 85% of girls are forced to stay at home from school to care for their younger siblings and the house while their brothers attend school. 
Education is crucial to women's economic empowerment. It actually takes centre stage, but for a long time, most women have been denied this right. Rather, they have been the victims of highly degraded traditions and obligations.  
Education enables girls to accomplish more in their social, career, economic, and family lives. For women, education can include attending classes and receiving training in capacity building and skills enhancement. As a result, they will help the country gain sustainable economic development. Thus, denying women and girls equality and fairness not only harms them but also harms the rest of society. 
Importance of Women's Access to Higher Education
Higher education, whether from college or high school, equips women with the knowledge and skills needed to participate in government, industry, and civil society. Furthermore, with increased education, women and girls have greater access to medical knowledge and other helpful resources. 
There are multiple reasons why higher education is important for women. These are as follows: 
Better Economic Growth: 

With educated women, the economy of the country flourishes and thrives. The reason is that the more educated women there are, the greater the ratio of people serving the country, and hence the economy grows. 

 

Good for Communities: 

Compared to men, educated women have higher earning potential and are therefore more likely to contribute to society. Women who have received an education place a high value on empathy, compassion, and community participation.

 

Decreased Abuse: 

Educated women suffer less from domestic abuse than illiterate ones because they have more awareness and more independence. 

 

Lower Mother and Child Mortality Rates: 

Higher education allows women to marry later in life after they complete their education. As a result, they push back the age at which they have their first child, which increases the survival rate of both mothers and children from the first dangerous childbirth. 

 

Enhanced Social Inclusion: 

Higher studies empower women to have a professional life along with a personal one. As a result, the women's seclusion decreased and their mental health issues are also reduced. 

 

Promotes Good Health: 

Children whose mothers have completed higher education are twice as likely to receive vaccinations against common diseases. As a result, it leads to improved community health outcomes. 

 

Intergenerational Success: 

Children of educated female individuals are more inclined to gain higher education and pursue their dreams than those of uneducated mothers'.

 
The University of Central Punjab believes that empowering women is the need of the hour. In addition, it promotes gender equality by giving equal employment and educational opportunities to women as to men. Consequently, it leads to an increased income and reduced isolation of women from financial matters.  
Thus, UCP enables women to realize their ambitions with education and encourages them to pursue their own dreams and goals. These are not just words, we mean everything we say and stand by it. We take pride in having a faculty that includes a large proportion of women. Let's look at some facts and figures.  
We have 33% of women working in senior leadership roles and preparing students for the challenges of life.

 

43% of our faculty includes women as teachers, professors, lab operators, etc. 

 

In addition, to support women in achieving their professional and personal goals and eradicate gender inequality, we encourage higher education for women. That is why:

 

We have a 41.5% female student population at our campus, leading to the highest educated female ratio in the country. 

 
UCP's Women in Leadership Roles
UCP's female graduates are working in leadership roles in different corporate organizations. We have listed some of them as follows: 
Maira Zameer Syed did her bachelor of business administration from UCP. She is now working as a Social Sustainability and Inclusion Specialist at the World Bank in Washington, DC. 

 

Javeria Randhawa has done her bachelor's in MBA finance and HR from the University of Central Punjab. She topped the CSS exam later and is currently working as Additional Deputy Commissioner in district Narowal. 

 
If you are looking for premium higher studies, UCP is the place to be.