Explore the World of Literature with the BS English and Literature Program
A BS English and Literature degree program is an undergraduate program that concentrates on the study of English language, literature, and writing. Additionally, this curriculum aims to improve students' communicative, analytical, and critical thinking abilities.  
Is there any scope for BS English and Literature in Pakistan?
Yes, there is high scope for graduates of BS in English and Literature in Pakistan and abroad. In Pakistan, graduates can pursue a career in education by becoming English teachers or pursue a career in journalism by joining a media organization.  
Furthermore, you can also work for publishing companies, advertising agencies, and public relations firms. Similarly, you can find jobs in international organizations, such as the United Nations. These places require strong communication skills and proficiency in English. 
What can you do with a BS in English and Literature?
A BS in English and Literature can lead to a variety of career paths in fields such as education, publishing, media, advertising, and more. Some common job options for graduates of this program include: 
1. Editor
The editor's job is to check written material for grammar, spelling, and punctuation mistakes. You will be qualified to edit and proofread written material. 
2. Teacher
BS English and Literature degree will enable you to pursue a career in education and become a teacher. You will educate students on various aspects of the English language, including literature, writing, and grammar. 
3. Public Relations Specialist
A public relations specialist is responsible for creating and maintaining a positive image for an organization or individual. So, with a BS English and literature degree, you will have the skills to create compelling content and communicate effectively. 
4. Advertising Copywriter
It is the job of an advertising copywriter to write the written text for advertisements. Graduates with an English and Literature degree are equipped for convincing and powerful advertising copy. 
5. Journalist
A journalist's duties include obtaining, investigating, and reporting news and information. You will be capable of crafting engaging and educational news pieces. 
6. Technical Writer
Writing instructional and informative materials for technical goods and services is the responsibility of a technical writer. A graduate with a BS English and Literature degree can produce technical content that is simple to understand. 
7. Publicist
A public relations specialist is in charge of creating and sustaining a positive image for whomever they work for. You will be capable of communicating clearly and producing interesting content. 
Why the University of Central Punjab is the Best Choice for Studying English and Literature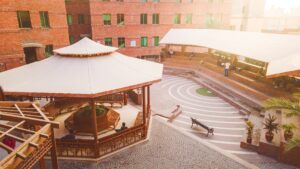 Are you interested in studying English and Literature at the university level? If so, the University of Central Punjab (UCP) should be at the top of your list. Here are just a few reasons why UCP is the best choice for studying BS English and Literature. 

1. Campus Facilities at UCP
UCP has a range of facilities that make the university experience comfortable and productive. Here are some of the facilities you can enjoy at UCP: 
Lecture halls with comfortable seating arrangements and air conditioning

 

A modern cafeteria serving delicious food at affordable prices

 

On-campus hostel facilities for students who come from outside Lahore

 

A sports complex with indoor and outdoor games facilities

 

A spacious parking area for students and faculty

 
2. Different Labs at UCP
UCP has a variety of labs that provide students with hands-on experience. Here are some of the labs that you can use at UCP: 
Language Lab 

 

Computer Lab

 

Media Lab 

 

Science Lab

3. Faculty at UCP
UCP has a team of highly qualified and experienced faculty members who are dedicated to providing students with a quality education. The faculty members are passionate about their subjects and are always willing to help students. They use interactive teaching methods to engage students and make learning enjoyable. 
4. Library at UCP
UCP has a well-stocked library with a large collection of books, journals, and research papers. So, you can access this library and take out books for personal use or research purposes. The library also offers a peaceful environment for students to study in. 
5. Dynamic Societies and Clubs at UCP
UCP has a range of societies and clubs that students can join to develop their skills and pursue their interests. Here are some of the societies and clubs that you can join at UCP: 
Debating Society 

 

Drama Society Literary Society 

 

Music Society 

 

Sports Club 

 

6. Research Opportunities at UCP
UCP offers research opportunities to students who are interested in pursuing research in English and literature. Thus, you can participate in research projects, conferences, and seminars to broaden your knowledge and skills.  
Additionally, UCP has several research centers, including the Center for Language Research. It provides research opportunities for students. 
Subjects in BS English and Literature at UCP

 
The BS English and Literature program at UCP covers a wide range of subjects, including: 
English Language 

 

Literature Forms and Movements 

 

Global Poetry

 

Introduction to Information & Computer Technology (ICT) Skills

 

Academic Reading & Writing

 

Rise of the Novel (18th to 19th Century)

 

Romantic and Victorian Poetry

 

Foreign Language

 
So, join UCP in our fall admissions 2023 and enroll yourself in BS English and literature program.