How is UCP's Career Placement Cell Helping Students Secure Perfect Jobs?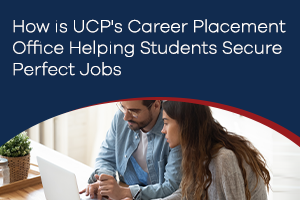 Confucius said something that is still very true today: "Choose a job you love, and you will never have to work a day in your life." When you are doing something you enjoy, you do not see something as an obligation.  
However, the problem occurs when you cannot get any job opportunities and begin to doubt yourself. This is where the career placement cell or career services office comes in. They can be a huge help in determining your career path in these difficult situations. 
Research indicates that new graduates' employability does not meet the industry standards. This generates a significant skill gap in the labour market, leading to unemployment or underemployment. 
Thus, the University of Central Punjab has established a student career office on campus with the sole purpose of bridging this gap and making it easier for amateurs to enter the labour market. They provide great student counselling services regarding careers.  
Remarkable Ways UCP's Career Placement Cell Help Students Secure Jobs
This department of Career Service Centers at UCP bears some of the most important tasks. It serves as the support system that will help you become more prepared for the future. A career placement centre is usually a wise choice because it can help you with a variety of difficulties relating to your practical life. 
Proper Career Counselling
Our career placement cell will assist you in stepping into your professional life while also relieving your stress. You will have proper guidance to help you obtain the job profile you desire based on your abilities and skills.  
UCP aims to guide you in the right career direction so that you not only succeed but also enjoy your work. That is why the Career Services Office focuses on giving UCP students and alumni the means to look into and secure better employment in better companies.  
In addition to developing in you a strong sense of kinship with the institution, these services will provide you with more opportunities for exposure through international education.  
Bridging Student and Employment Gap
Students may have preconceived ideas about the type of organization they want to work for or the salary they would want to earn. Therefore, they are often unaware of current business trends and do not know what is going on in the market. 
So, the university's career office aids in getting the right people at the right location. The career placement cell at the University of Central Punjab aims to guide students about the facts of the market situation and show them where they fit. As a result, it bridges the gap between you and your desired profession.  
The Alumni Relations
Good alumni relation benefits alumni, current students, and the institution. In order to encourage partnerships, meaningful connections, and holistic career development, UCP has established a community of existing students and alumni.  
We understand the partnership between current students and alumni can offer the graduating students considerable chances for development and growth. That is why our alumni relations verticals area is concerned with maintaining and utilizing connections to help current students find mentors, advisors, and jobs. 
Furthermore, we improve the UCP experience for alumni outside of the university's campus. Also, we strive to build a strong alumni network to promote capacity and information exchange. 
Job Interview Preparation
Securing a job is not about showing your skills in the first interview, it is about how you present yourself.  
That is why, throughout your academic journey at UCP, you will not only gain substantial knowledge but also learn to equip yourself with skillset to stand out from other candidates in a job interview. As a result, you are trained to leave an impression on the interviewer as he has never seen it before.  
As you work toward your professional goals, keep in mind that everyone has to start somewhere and that all it takes is one step. If you are unsure about which direction you should go, career placement cells at UCP can help you find your inner passion.  
So, it is not all about providing you with premium education. It is more than that. You will have self-development opportunities along with professional guidance. If you are confused, you can always contact our highly experienced faculty.  
In addition to the faculty, you are always welcome at the University of Central Punjab's student career office if you have any questions regarding your practical life. Our career centre offers every possible service, from advising pupils to preparing them so that they are not left behind and have a fulfilling career.   
If you have any queries, you can contact the career centre at cso@ucp.edu.pk.  
However, for more information, you can reach out to us at info@ucp.edu.pk.