University of Central Punjab: The Best Place for BS Computer Science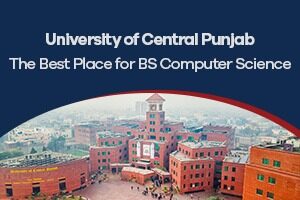 Are you considering a career in BS computer science? Computer science is all about using technology to solve problems. It is the study of computers and computing technology, including software, hardware, and networks.  
People who study computer science learn: 
How do computers process and store information?

 

How to write computer programs that can automate tasks and solve complex problems.

 
Scope of BS Computer Science
In Pakistan, BS computer science is a highly sought-after field of study, with many job opportunities available for skilled professionals. The technology industry in Pakistan is rapidly growing. As a result, there is a fast growing demand need for: 
Software developers

 

Web developers

 

Database administrators

 

Network administrators

 

Cybersecurity analysts

 

Other computer science professionals

 
In addition to the private sector, many government organizations in Pakistan require computer science professionals. Thus, these include government agencies, research institutions, and universities. 
What can you do with a BS Computer Science Degree?
A BS computer science degree opens up many exciting career opportunities in the technology industry. Some of the most common jobs that graduates with this degree can pursue include: 

1. Software Developer
For a range of industries, software developers produce computer programs and applications, including: 
Healthcare

 

Finance

 

Education

 
2. Web Developer
Web developers create websites and web apps for businesses and organizations. 
3. Database Administrator
Database administrators manage and maintain large databases. They ensure that these databases are secure, reliable, and accessible. 
4. Computer Systems Analyst
Computer systems analysts analyze an organization's computer systems. In addition, they recommend changes to improve efficiency and productivity. 
5. Network Administrator
In order to keep computer networks safe and operating efficiently, network administrators manage and maintain them. 
6. Artificial Intelligence/Machine Learning Engineer
AI/ML engineers design and develop intelligent computer systems that can learn from data and make decisions on their own. 
7. Cybersecurity Analyst
Cybersecurity analysts defend computer networks and systems against cyber-attacks and other security risks. 
8. Data Scientist
Data scientists use advanced analytical techniques to analyze large amounts of data. In addition, they also provide insights that can inform business decisions. 
The University of Central Punjab for BS Computer Science
Do you want to study BS computer science at a university that provides top-notch facilities and opportunities? Look no further than the University of Central Punjab (UCP) in Lahore, Pakistan. Here's why UCP is the best place for BS computer science. 
Facilities at UCP
UCP provides its students with a wide range of facilities to ensure their academic success and personal growth. Some of the facilities offered to students in the Computer Science Department are: 

1. State of the Art Computer Labs
UCP's computer labs are equipped with state-of-the-art technology, providing students with access to the latest software and hardware.

 

The labs are available to students round-the-clock, allowing them to complete their assignments and projects at their convenience.

 

The computer labs have a high-speed internet connection, enabling students to conduct research and access online resources easily.
2. Well-Rounded Campus
UCP's campus is spread over 10 acres of land, providing students with a peaceful and conducive environment for learning.

 

The campus is equipped with modern facilities such as air-conditioned classrooms, a library, and an auditorium.

 

The university also has a cafeteria that serves healthy and delicious food to students.

 
3. Sports Complex
UCP has a sports complex that includes a gym, a swimming pool, and a tennis court.

 
Students can participate in a variety of sporting activities and events organized by the university.

 

The sports complex helps students stay fit and healthy, contributing to their overall well-being.

 
4. Hostel Facilities
UCP's girls' hostel provides a comfortable and safe living environment for students.

 

The hostel rooms are equipped with basic amenities such as a bed, study table, and cupboard.

 
The hostel has 24/7 security, ensuring the safety of students at all times.

 
5. Scholarships at UCP
UCP offers a range of scholarships to deserving students to support their academic journey. Some of the scholarships offered at UCP are: 
Punjab Group of Colleges Scholarship

 

Scholarship for Differently Abled Students

 

Talent-based Scholarship

 

Legacy Scholarship

 

Merit-Based Scholarship

 

Need-Based Scholarship

 

Sports Scholarship

 
6. Accreditation of UCP
UCP is accredited by the Higher Education Commission of Pakistan, ensuring that the university meets the highest standards of education. The university's BS computer science program is also accredited by the National Computing Education Accreditation Council. This, ultimately, ensures that the program meets industry standards. 
7. Student Career Office
UCP's Student Career Office provides students with career guidance and job placement services. The office helps students prepare their resumes, develop their interview skills, and connect with potential employers.  
In addition, the office also organizes career fairs and workshops, providing students with opportunities to network and learn from industry experts. 
8. Subjects Covered in BS Computer Science
UCP's BS computer science program covers a range of subjects that provide students with a comprehensive understanding of computer science. Some of the subjects covered in the program are: 
Programming Languages

 

Data Structures and Algorithms

 

Computer Networks

 

Database Systems

 

Operating Systems

 

Artificial Intelligence

 

Software Engineering

 

Web Development

 
Join UCP for BS Computer Science
UCP's fall admissions 2023 are now open. Apply to our BS computer science program and start your journey of becoming a computer expert.