LLB at UCP-What Purpose Do Moot Court & Legal Clinics Serve?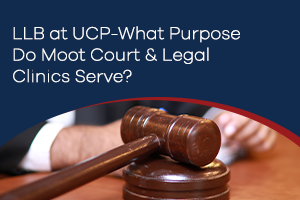 LL.B at UCP is a 5-year law program. The goal of this course is to produce qualified and responsible lawyers. It aims to instil in the students the belief that they are change agents who will uphold truth, justice, and fair play. Also, the faculty of law (FOL) gives special importance to resolving moral dilemmas associated with the legal profession. 
Well, it is your chance to live the life Harvey Specter and Mike Ross once lived in Suits! That is full of character, charisma, and shrewdness to keep winning. The question is, how is it possible? How can you develop these characteristics and how can UCP help you achieve this objective? 
 The law college of UCP is all about providing you with hands-on experience. And it does so by training the students in moot courts and legal clinics.  
What is a Moot Court?
A moot court is a purpose-built room where a genuine court scenario is established. In this room, students serve as councillors (advocates), presenting each side (plaintiff and defendant) on the basis of proof and fundamental problems of law.  
They argue with each other to prove their claims in front of the judge. The judge then offers his verdict in the same regard and announces the winner who gives the strongest arguments and proves their claims.  
Furthermore, when students present their points, the judge can interrogate them on facts. This helps assess the student's competence and prompts adaptability to the scenario. 
The Purpose of Moot Court
Moot Court is designed to instil many habits that are required by many law firm recruiters. So, when you go to a job interview and your resume displays that you have done a variety of moots, it will work in your favour.  
How? The employer will know that you have fair knowledge and experience in this subject. Consequently, your chances of getting selected will instantly increase. Do you know that the University of Central Punjab has a three-bench judge panel moot room? 
The room is designed as per the national standards of the High Court of Pakistan. So, while you study LLB at UCP, you will be training for your career in law in this moot room. In addition, participation in the Moot Court Competition on a regular basis will prepare you for the proceedings that take place in real courtrooms. 
Furthermore, the moot court will help you develop: 
Networking

 

Researching and writing skills

 

Build Confidence

 

Practical Knowledge

 

Teamwork

 
What is a Legal Clinic?
The Legal Clinic provides law students with a vital opportunity to work on real-life situations under the supervision of expert lawyers. So, when studying LLB at UCP, you will have the opportunity to benefit from this facility.  
In addition, pro bono services have also become an important component of law clinics around the world in recent years. The Law Clinic of UCP's law college considers this aspect and incorporates clinical training techniques by engaging you in practical scenarios.  
What Purpose Does a Legal Clinic Serve?
The law college of UCP has a legal clinic. This law clinic organizes training workshops on law moots, mock trials, debates, and research writing. We do this to blend the clinical approach of instruction with the students' regular class activities.  
In addition, the clinic is designed to serve the following purposes: 
To offer legal pro bono services to underprivileged members of society.

 

To give pupils practical learning experiences.

 

Increase their legal knowledge and confidence.

 

Improve their employability by learning a variety of transferrable professional skills.

 

Develop solid links with local legal professionals and advice agencies to expand their network of contacts.

 

Learn about the benefits and pitfalls of working in legal practice.

 

Make a difference in people's lives by providing them with access to legal advice.

 
LLB at UCP- The Best Kick Start to Your Career in Law
We believe that you need to have practical exposure before you enter the industry. And Moot Courts and Legal Clinics are efficient methodologies to help you gain knowledge and experience.  
The University of Central Punjab is the best university for LLB in Lahore. We aim to deliver to the world the lawyers that bring out justice and make it a better place to live. So, if you are looking for an institute to study Law, then doing an LLB at UCP is the best option for you.