3 questions to ask yourself before selecting a degree program
After college when you are about to take up a degree program, it is important to ask yourself a few questions, so that you are sure of the program that you want to start. Every program offers an opening and skill to pursue a career, which helps the students to excel in their future careers. Once you have taken admission in a course you cannot change over and over again, so it is better not to plunge in. This is a life changing step and will put you on track to your to your professional life. You will be putting in time, effort and all your energy to excel in it. Choose wisely, conduct a research and do your own homework before just signing for a major. Do not get carried away by the decisions of friends or what they are about to study, think about yourself and your future career, and ask yourself these 3 questions before deciding your degree program.
Why do I want this degree program?
It has been a common practice of students to pick a major because of a friend or that the parents want them to study in that field or may be because it sounds sophisticated and can help earn a lot. You are the best judge of your wishes and capabilities. Sometimes you cannot walk the paths that others tread, so it is you who has to decide whether you want to fulfill other's wishes or choose a route that suits you.
Take out time to visualize the type of career you desire, whether you really want to work in the same field for the rest of your life, will this degree help you to the career that you aspire, will your career increase earning potential, what will be the job prospects?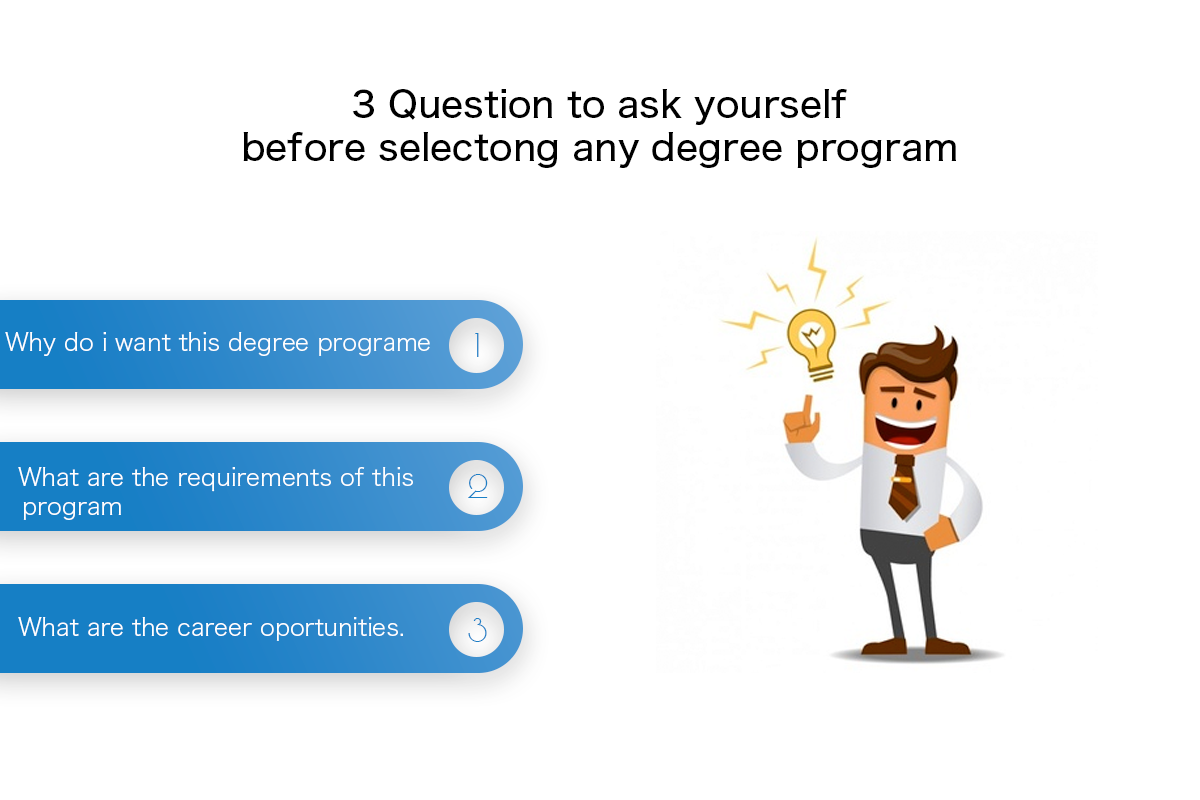 Some degrees sound exciting if you hear about them, but taking courses can be an altogether different experience. It could be because you may have never explored that field or it may have seemed easy when you had done just the basics, taking it on a higher level could be a new experience. Not all programs are beneficial, don't forget that whatever field you master will help you achieve the goals that you aspire, so you should be sure of the job prospects. Keep a keen eye on the jobs available and the growth of that specific industry, by the time you complete your degree, what job opportunities will be available for you. You should also consider the benefits of the field that you wish to pursue your degree in. Usually most of the students take up their majors watching the current demand of that field and do not analyze its demand by the time they are trained for it. Make sure you don't choose a degree on the edge of collapsing.
Learn more about the college that you want to take admission in, whether the college has good instructors and course plans for you to learn effectively. This doesn't mean that a specific college may not be good, but as every institute does have a weak area, so make sure that wherever you take admission You must also consider if the college tailors its students well enough to be on a competitive edge in the future market.
It is always a good idea to take advice, especially from someone who is already in that field. Talk to a professor already teaching in that field or another person who has done that degree. Make note of all the pros and cons so that you are sure whether you want to pursue in this field or not.
What are the requirements of this program?
Every field that is undiscovered sounds exciting, but as you unpack the package only then you realize that this wasn't for you. In order to save yourself from a setback or becoming a victim of wrong decision, do your research about the requirements of the degree. Every degree requires a prerequisite which has to be met in order to acquire it, for instance to become a doctor you need to do MDCAT and for business studies you have to pass the GMAT exam. In the same manner you must find out what is required to start with the degree that you want to acquire. This should not tempt you to leave the option rather you can acquaint yourself with the requisites of the degree and be prepared for the new learning challenges.  Think if you are good at the degree you are opting for or not. Don't opt for the work that doesn't excite you because only if you find your field exciting will you work happily and with full energy.
Studies in general demand time and effort but for some degrees total dedication is greatly required. So before starting a degree, do consider the amount of effort and time you are ready to spend on your academics. Remember that work in every field of life is demanding and no one has ever been able to earn easily. Doing a degree that doesn't grab your time, interest and attention will leave you frustrated. It is better to stay motivated by taking a degree that is of your choice, will stay in demand for a long period of time and will be able to get you good salary.
What are the career opportunities of this program?
This is the most important out of all the questions, what will be the career opportunities? If you pick a degree that suits you and that you enjoy and doesn't get you a good salary when you step into your practical life then it is virtually good for nothing. Times change, demands of market change, 10 years back people relied on landlines and a personal phone was out of question for a normal teenager but with the advancement of technology the demand for personal smart phones has risen let alone a regular one, no one remembers the usage of cassette players where videos can easily be watched on phones. An industry has died, so has its study.
So keenly examine the market, what type of major is most suitable that by the time you step into business it is still in demand. If you feel that career in the degree you choose will not be on a growing edge 5 – 10 years down the road, don't opt for it.
Choose wisely and make best use of your time and money…!