Top Reasons to Pursue BS Zoology in 2023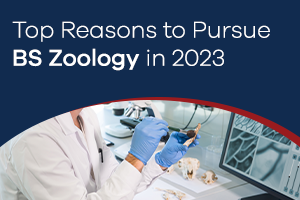 Do you love animals? Are you curious about their way of living and how they interact? Then studying BS zoology is the go-to bachelor's degree for you.  
What is Zoology?
Studying evolution, behaviour, and the interaction of animals with themselves and their environment comes under the umbrella of zoology. To provide a thorough understanding of species structure and diversity, the subject incorporates anatomy, physiology, ecology, evolution, and conservation. 
The Significance of Zoology
Studying Zoology is important in so many aspects.  
Our nature is made up of more than just humans; it also includes plants and animals. So, studying

BS zoology

will lead us to appreciate nature. Our entire environment is linked in a complicated cycle and you will not take nature for granted if you understand how animals behave and interact with us. 

 

Another reason is that you will understand the need to preserve animals. Animals are important to keep maintaining the balance of the environment. So, when studying zoology, you will learn about the necessities that animals lack. In addition, you will know how you can devise solutions to save endangered species.

 

BS zoology

will help you understand the significance of your responsibility to take care of animals. Modern development is required for a country's economy to grow, but it should not compel us to compromise our rainforests and seas. 

 
So, learning about animals serves as a reminder that modernization is more than simply big buildings and towers. People should recognize that our contemporary life should include the lives of the animals that share our planet. They should not just be kept in zoos, but in their natural environments as well.  
Why Should You Study BS Zoology?
There are so many reasons why you should pursue the field of zoology. Some of them are as follows: 
1. Job Outlook
One might think that after studying BS zoology, one can only work at a zoo or a safari park. However, this is not the case. Studying zoology prepares you for a wide range of professions.  
The scope of BS zoology is higher than your expectations. So, after graduating, you will have a diverse variety of career opportunities available to you. You will find jobs across industries, including different roles such as: 
Marine Science 

 

Academic research 

 

Conservation 

 

Environmental scientist

 

Veterinary medicine

 

 

Biomedical science

 

Data analyst

 

Government departments 

 

Non-governmental organizations 

 

Charities

 

Animal behaviourist

 
In addition, some of the jobs available include researching and testing new pharmaceuticals, disease and pest management, the welfare of animals, etc. Also, it is common knowledge that zoologists travel the globe to study animals in various habitats. If this is something that interests you, then you should go for BS zoology in 2023.  
2. Career Prospects
Having a zoology degree does not mean that you can only work as a zoologist. There are so many other professions you can opt for such as:   
Animal health inspector

 

Animal nutritionist

 

Biotechnologist

 

Clinical scientist

 

Consultant ecologist

 

Medical writer

 

Microbiologist

 

Museum curator

 

Nanotechnologist

 

Science writer

 

Soil scientist

 

Statistician

 

Teaching

 

Zookeeper

 
3. The Work Will Never Be Boring
The field of zoology is fascinating. So, your work will never be dull. Rather, you will have fun as you will have more practical exposure than theoretical knowledge.  
You will be dealing with small creatures like butterflies and giant beasts like lions and bears. So, it is not a stationary field of work. You will have exciting and adrenaline-rushing moments in your professional life.  
4. High Paid Profession
Zoologists might find employment in both public and private sectors because of the high scope of BS zoology. 
In Pakistan, a zoologist makes an average annual salary of PKR 320,604 ($26,717). The starting salary for entry-level jobs is PKR 26,000 per month, whereas the average monthly salary for experienced professionals is PKR 120,000.  
5. An Interesting Subject
The world of animals is vast and there are so many species that have not even been discovered yet. So, it is an ever-growing and ever-green field. You will be studying reptiles, amphibians, mammals, and whatnot.  
Thus, it will never be a boring subject. Each day you will learn something new, especially when dealing with animals. You will learn how they react to certain changes, what mechanisms they adopt to blend into the environment, and how they feel when they are hungry or angry.  
Which Institute to Choose for Studying BS Zoology in Lahore?
The University of Central Punjab, located in Lahore, is the best institute to study BS Zoology. UCP takes pride in having the most experienced faculty that will ensure you gain substantial knowledge and hands-on experience in this field.  
In addition, the curriculum is HEC-based, so you will not have difficulty in starting your practical life. Hence, UCP is the best university to study BS zoology in Lahore. The subjects you will be studying include: 
Animal Diversity

 

Animal Behaviour

 

Evolution and the principles of Systematics

 

Zoogeography and Paleontology

 

Environmental Biology

 

Bacteriology and Virology

 

Biostatistics

 

Animal Form and Function

 
Study BS Zoology at UCP 
Loving animals and having to work in this field is like a dream come true, right? A BS zoology is a good kickstart to your career as a zoologist. This profession is one of the highest-paid jobs in Pakistan. A steady and stable future is what the University of Central Punjab prepares you for. 
Our extensive course is taught by highly qualified faculty to ensure you are fully prepared before you step into your practical life. We offer a four-year bachelor's program in Zoology to help you achieve your goals.