University of Central Punjab: The Best Institute for D Pharmacy in Lahore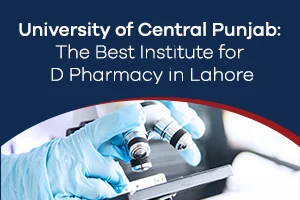 Are you looking for D Pharmacy institutes in Lahore? You have come to the right place. The University of Central Punjab offers an extensive course in Pharm D. Before I tell you why you should choose UCP for this program, let me throw some light on what D pharmacy is and what its scope is in Pakistan.  
What is D Pharmacy?
Doctor of Pharmacy or Pharm-D refers to the study of pharmaceutical sciences. Students with an FSc pre-med background who meet the eligibility criteria can pursue this degree. D pharmacy in Pakistan has received approval from the Higher Education Commission. It is also acknowledged by the Pharmacy Council of Pakistan and is recognized internationally. 
D Pharmacy Course in Pakistan
In Pakistan, D Pharmacy in Lahore is a 5-year program with a 1-year internship. It is the professional degree you need to practice pharmacy or become a pharmacist. It opens the door to a variety of fulfilling employment opportunities in healthcare. 
Furthermore, the Pharm D degree program is both demanding and rewarding. Your preparation for a D pharmacy degree program at UCP will help you think critically and collaborate with others to achieve long-term goals for the communities and customers you will serve. 
Scope of D Pharmacy in Pakistan
Deciding on a degree that will help them in the future might be challenging for students. Nobody can predict what the future may hold or which career will help you reach your financial goals, but one thing is certain: D Pharmacy has a very promising future in Pakistan. The field has been growing lately and continues to expand in the country.  
In Pakistan, the scope of D Pharmacy is quickly expanding. Both the public and private health sectors offer a wide range of positions. In Pakistan, pharmacists mostly work for pharmacies or pharmaceutical firms.  
After you are done with your D Pharmacy course, you will have excellent career choices. You can work as researchers, lecturers, medical journalists, or clinical pharmacists in hospitals, and other organizations such as: 
Drug testing laboratories

 

Hospital pharmacists at government hospitals

 

Drug inspectors

 

Lecturer in government colleges or universities

 

Own retail pharmacies

 

Home health care

 

Pharmaceutical companies

 

Hospital pharmacists at personal health cares

 

Forensic pharmacists

 

Distribution setups

 
And many more. 
Why is UCP the Best Choice for D Pharmacy?
You must be thinking that there are so many other universities offering the same D Pharmacy course. Then it would be best if you chose UCP. Well, here is why.  
1. Purpose-Built Campus
UCP campus has every educational facility for you to ease your educational journey. There are 173 classrooms with air conditioning. In addition, all three buildings on the campus have a 24/7 power supply. There are three cafeterias with clean and hygienic food. Along with this, there is an auditorium, webinar room, etc. that you can use for different purposes.  
2. HEC-Based Curriculum
The whole curriculum of the D pharmacy course, along with other programs, is HEC-based. So, you do not have to worry that you will not only be trained as per Pakistan's employment requirements. You will learn every basic principle of pharmacy and will be able to excel in this field after graduating from UCP.  
3. Top-Notch Faculty
The curriculum that we design is taught by highly qualified faculty. Our professors and teachers have years of experience in the field of pharmacy. So, you will be learning from the best instructors in town.  
4. Facilities
I have said that you will have every educational facility available while studying D pharmacy. That means you will have access to the following amenities: 
State-of-the-art Laboratories to practice and gain practical exposure. 

 

Fully Stocked Library with 40,000 plus textbooks on different topics and other educational resources. 

 

Auditorium for recreational and study purposes. 

 

Scholarships and incentives to make education accessible to everyone.

 

Shuttle service to make the commute easy and comfortable.

 

Girls' hostel for outstation female students. 

 

Sports Complex including a gymnasium and extracurricular activities. 

 
So, you will not only be studying at UCP but will also be benefiting from all these facilities.  
5. Campus Life
Apart from providing you with optimum education, UCP aims to deliver a well-balanced campus life. To make this happen, we present you with a wide range of societies and clubs that you can join.  
You will be involved in organizing events and seminars. In addition, you can use this opportunity to explore your hidden talents and improve your skills. Here is a list of some of the societies and clubs that you can join: 
Islamic Guidance Club (IGC)

 

Environmental Protection Society (EPS)

 

UCP Photography Club (UPC)

 

UCP Dramatics Club

 

Freelance Force Society

 

Character Building Society (CBS)

 

Debating Society

 

Inclusive Student Society (ISS)

 

UCP Media Club

 

UCP Adventure Club (UAC)

 
Get Your Best D Pharmacy Degree from UCP
D pharmacy is a great field to pursue a career in. So, get your degree from UCP and embark on the journey of becoming the best pharmacist.  
For more information, contact us at info@ucp.edu.pk.