What Are the Different BS Chemistry Jobs in Pakistan? A Complete Guide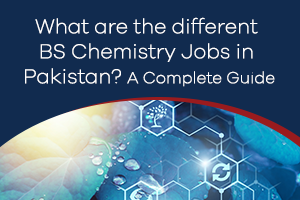 Have you decided to study BS chemistry? Are you wondering about the different career paths available? Is it worth pursuing as a profession? Be at ease, as we are going to describe a wide range of BS chemistry jobs in Pakistan for you in this piece of writing. 
BS Chemistry in Pakistan
Students who are serious about becoming chemists or trying to find work in the chemical sector should consider the BS in Chemistry program. It is a four-year course of study. In Pakistan, there are many colleges and universities that provide BS chemistry. 
If you want to pursue a profession in chemistry, we would suggest you pursue a BS Chemistry. Here, we provide extensive and in-depth information about the scope of BS chemistry in Pakistan, employment options for chemists, the main BSc chemistry courses offered, salaries, and careers in the field of chemistry. 
Importance of Chemistry 
Everything in this universe is made of chemicals. Chemistry is the study of the chemical compositions of elements, compounds, and substances.  
So, chemistry is an essential subject and field in Pakistan since it is involved in the production of hundreds of medicines, fertilizers, chemicals, glass, and petroleum products. Furthermore, it plays an important role in oil refining. Thus, a bachelor's degree in chemistry opens up a lot of professional job opportunities. 
Top 10 BS Chemistry Jobs in Pakistan
A scientist who has acquired training in the subject of chemistry is referred to as a chemist. Chemists are specialists in the study of the properties and composition of materials. If you have a great aptitude for or interest in chemistry, or if you wish to pursue a chemistry degree, you might be curious to find out more about job possibilities in the area.  
BS chemistry jobs in Pakistan differ in terms of nature, income, and required qualifications. The salary for a BS in Chemistry increases from time to time. Choosing the right chemistry career for you can be made easier with the help of the information and list provided below. 
1. Analytical Chemist
The tasks of an analytical chemist include studying the usage of various chemical substances, components, and quantities involved in diverse chemical reactions and behaviors. As a chemist, you will run a variety of tests, such as drug analysis, to assess the effects of different conditions and chemical reactions. In addition, you will determine the safety of food for human consumption. 
2. Chemical Engineer
Another amazing chemistry job in Pakistan is that of a chemical engineer. Chemical engineers play an important part in today's scientific world. how? 
They use their in-depth knowledge of chemistry and the numerous chemical processes used to generate renewable energy products. And they do so to develop new energy materials. In addition, you will be able to produce oil by combining several plastics while working as a chemical engineer. 
Furthermore, you will be able to offer help and guidance in the development of numerous revolutionary new items that can progress nations. As a result, you will be widely sought after by numerous multinational corporations in the nuclear research area. 
3. Chemistry Teacher
Why not make use of your great analytical abilities and competitive knowledge by working as a professional lecturer or instructor at several prestigious public and private universities and educational institutions? 
However, for positions as a lecturer or associate instructor in renowned colleges and institutes, you must have extremely high educational standards and merit requirements, such as an M.Phil. or PhD.  
4. Forensic Scientist
After earning a degree in chemistry, such as a BS chemistry, you can apply to work as a forensic expert, chemical scientist, or senior lab assistant in a variety of renowned scientific labs and government agencies. 
Individuals with high pay scales working in various public science departments include chemical scientists. So, a forensic scientist is one of the many excellent BS chemistry jobs in Pakistan.  
5. Geochemist
Geochemists play a key role in our highly advanced scientific world. As a geochemist, you will study numerous physical and chemical features of different types of materials, such as rocks and minerals.  
Moreover, you will apply your scientific expertise to understand diverse chemical components and their effects. Similarly, you will also help in the effective study of these topics, for example, how water impacts the soil, etc.  
6. Hazardous Waste Chemist
You can also pursue working as a hazardous waste chemist, as it is one of the many top BS chemistry jobs in Pakistan.  
It is impossible to overstate the importance of chemists in the analysis and research of hazardous waste. Why? That is because they apply their scientific knowledge to explore and identify the various dangerous chemicals and elements that are present in the soil, air, and water.  
So, as a hazardous waste chemist, you will provide well-researched reports and findings that assess the chemical risks of exposure to hazardous materials. Additionally, your tasks and duties will include presenting the necessary steps for containment or removal. 
7. Materials Scientist
It is important to recognize the importance of material scientists in the study of: 
Numerous natural substances

 

Their chemical makeup

 

The properties that affect how they interact with one another when exposed to various materials or environments.

 
In addition, as a material scientist, you will play a key role in the scientific community's efforts to improve a variety of new chemical materials for meeting a range of human needs. 
8. Pharmacologist
The use of pharmaceuticals and various testing materials is highly significant in our daily lives since we all get sick. This is where your role as a pharmacologist is important. You will offer insight into the research and development of various pharmaceuticals. In addition, you will also provide your expertise in the drug's interaction with external biological systems. 
Furthermore, you will be in charge of studying experimental drugs on either humans or animals. You will be analyzing various drugs for human usage safety. In addition, you must conduct a variety of lab experiments in order to evaluate and monitor the outcomes of newly developed vaccines and drugs. 
9. Toxicologist
Here is another one of the many extraordinary BS chemistry jobs in Pakistan. As a toxicologist, you will research the various impacts of chemicals and pharmaceuticals on various biological systems. In addition, you will evaluate the drug effects on various substances, like milk testing, to determine whether or not it is safe to consume as human food.  
Similarly, you will be responsible for producing a variety of scientific working procedures while working in science labs. You will do so to examine the many hazardous material impacts and determine what preventative measures or volumes will be necessary to address the issues. 
10. Water Chemist
Because water is necessary for human existence, water chemists work day and night to analyze, manage, and make sure that water consumption for human quality and chemical composition is safe for human consumption.  
In addition, you can find a highly-paid position as a water chemist in a variety of leading laboratories in both the public and private sectors. 
Salary of BS Chemistry Graduate in Pakistan
The average yearly salary of a BS chemistry major in Pakistan is PKR 410,000 per year. However, with experience, you can earn more than an average chemist.  
Employers of BS Chemistry Majors 
A chemistry bachelor's degree opens up a lot of job opportunities. A person with a BSc in Chemistry can easily find work in any of the industries listed below; 
Chemical Industries

 

Sugar Industries

 

Mining and Mineral Departments

 

Glass Industry

 

Forensic Labs

 

Research Labs

 

Pharmaceutical Companies

 

Cement Industries

 

Seed Companies

 

Petro-Chemical Industries

 

Ceramics Industries

 

Beverages Industries

 
BS Chemistry Subjects List
Different institutions design their curriculum according to their requirements. However, the goal is the same; provide you with substantial knowledge and train you as a top-notch chemist. To do so, they offer the following subjects in the BS chemistry program so that you can pursue any of the above-mentioned BS chemistry jobs in Pakistan.  
Inorganic Chemistry

 

Cell Biology, Genetics and Evolution

 

Principles of Animal Life

 

Physical Chemistry

 

Advanced Computer Application

 

Organic Chemistry

 

Biological Techniques

 

Plant Physiology and Ecology

 

Basic Pharmaceutical and Forensic Chemistry

 

Analytical Chemistry 

 

Applied Chemistry

 

Instrumental Analysis and Analytical Techniques

 

Environmental Chemistry

 

Biochemistry

 
BS Chemistry Degree from UCP
The University of Central Punjab offers a four-year extensive BS chemistry program following HEC guidelines. By working in labs, you will learn all the fundamental principles of chemistry and gain hands-on experience.  
In addition, there will be a lot of quizzes to help you prepare for your exams, but you will enjoy your time here as we offer a vibrant campus life. There are many societies and clubs that you can join to explore your hidden talents and use this opportunity for personal development.  
By the time you graduate, you will not only be trained as a chemist but also be prepared to start your career in the market. We have described the various BS chemistry jobs in Pakistan. With a BS chemistry degree from UCP, you will land your dream job sooner than expected.