What is Medical Lab Technology Scope in Pakistan?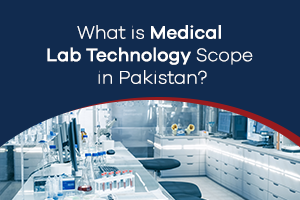 Medical Lab Technology, often known as MLT, is a new and rapidly growing field. In Pakistan, the potential for medical lab technology is increasing every day and doing so significantly. So, are you looking for the most up-to-date information on the Medical Lab Technology scope in Pakistan? If so, then keep reading to find out.  
So, do you wish to study medical lab technology? Well, read this complete article to learn about the most recent specialities, salaries, employment possibilities, and amazing career opportunities in Pakistan. 
What is Medical Laboratory Technology?
Before moving on to the medical lab technology scope in Pakistan, you should first know what is MLT.  
Medical laboratory technology is also known as clinical laboratory sciences. It belongs to the allied healthcare professional industry. It is a sector in which technologists use cutting-edge technology to assist specialists in diagnosing patients.  
Despite being a relatively recent subject, medical laboratory technology is becoming extremely complex due to the growing number of medical terms. Furthermore, laboratory technicians are in high demand these days. This leads us to the question of medical lab technology scope in Pakistan.  
What is Medical Laboratory Technology Scope in Pakistan?
Many students think about the topic that What is medical lab technology scope in Pakistan, especially while deciding on a career path. The basic answer to this troubling question is that there is a significant demand for both the employment market and the field of medical laboratory technology.  
Because of the growing range of healthcare systems, the scope of medical laboratory technology is expanding. Our healthcare system is rapidly growing, and new technologies are continuously being developed, which makes diagnosis simpler. Medical laboratory technology's significance is recognized by healthcare professionals. That is why the medical lab technology scope in Pakistan is quite high.  
MLT Specializations 
After completing the medical lab technology bachelor's program, you can pick from the main specializations listed below. The significance of the career opportunities in medical lab technology in Pakistan is focused upon in these specialized fields due to the high medical lab technology scope in Pakistan.  
1. Clinical Chemists
Test blood and bodily fluids for chemicals, hormones, and/or medications. 
Common Test: Blood Glucose (blood sugar) to diagnose and control diabetes. 
2. Clinical Microbiologists
Detect bacteria, fungi, viruses, and/or parasites by performing tests on samples of blood, bodily fluids, and/or tissue. 
Common Test: A throat swab to identify strep throat is a common test. 
3. Hematologists
Evaluate blood cells and look for blood-related illnesses or abnormalities by conducting tests. 
Common Test: The hemoglobin test is a common test used to detect anaemia. 
4. Transfusion Scientists
Perform tests to determine blood compatibility and blood typing. 
Common Test: Blood transfusion cross-matching is a typical test. 
5. Diagnostic Cytologists
To identify cancer, tests are performed on cells collected from the body. 
Common Test: A Pap test for cervical cancer detection. 
6. Clinical Genetics Professionals
To identify genetic illnesses, these professionals perform tests on chromosomes, DNA, and RNA from cells in body fluids and tissues. 
Common Test: Amniocentesis and other types of prenatal testing are common. 
Other speciality fields include: 
Parasitology

 

Virology

 

Electron microscopy

 

Flow cytometry

 

Immunology

 
Job Opportunities with BS Medical Lab Technology
Medical Technologists are the backbone of Medical Laboratories. Medical lab technologies use clinical laboratory tests to diagnose and treat disorders. These modern technicians and pathologists are extremely important to doctors for definitive diagnosis. 
The following is the list of places where you can find amazing job opportunities with BS medical laboratory technology.  
Hospitals

 

Clinics

 

Private laboratories

 

Public health organizations

 

Pharmaceutical companies

 

Research and development centers

 

Government laboratories

 
Career Prospects of Medical Lab Technology in Pakistan
Due to the high medical lab technology scope in Pakistan, there are several rewarding careers that you can pursue with a BS MLT. Look at the following list: 
Medical lab technologist

 

Medical laboratory scientist

 

Pharmacy technician

 

Medical technician

 

Respiratory therapist

 

Pathology technician

 

MRI technician

 

Dental machine technician

 

Optical laboratory technician

 
And much more 
Salary of Medical Lab Technologist
The salary of a medical lab technologist is dependent on a person's specialization, work experience, and capabilities. However, compared to the public sector, the private sector provides greater services and higher salaries. In Pakistan, the average monthly income for a Lab Technician is PKR 30,000.       
BS Medical Laboratory Technology from UCP 
I have described everything that you need to know about MLT and medical lab technology scope in Pakistan. So, if you are looking for an institute to get a BS medical laboratory technology in Lahore, Pakistan, then the University of Central Punjab is the best place to be. Why?  
In our BS MLT program, a variety of courses are available. These subjects will aid in your desire to become experts in the processing, interpretation, and theoretical areas of diagnostic tests. The curriculum guarantees highly qualified graduates who have the knowledge needed to pursue a successful career in medical lab technology and give back to society. 
For more information, you can reach out to us at info@ucp.edu.pk.