What Makes BS Real Estate Management Degree So Great?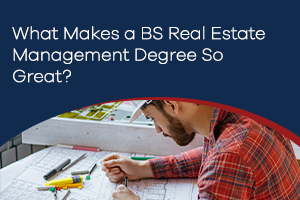 Real estate is an interesting field where you may earn a good living while making a difference in people's lives. As with other things, the more you know about real estate, the less likely you are to get into trouble and the more likely you are to earn money.  
In addition, working in property investment can also offer a rewarding profession for the rest of your life. A BS Real Estate Management degree is the gateway into the field. Then, use your knowledge to start a rewarding, well-paying career. So, is it worthwhile to choose a real estate degree? 
Yes. A real estate degree is worthwhile because it opens doors to fascinating, exciting, and challenging jobs. It gives you a fundamental understanding of the real estate industry. In addition, it prepares you for a profession that goes beyond marketing.  
So, at this point, you are probably wondering, "What can I do with a real estate degree?" This is a common question, especially if you have never considered real estate as a professional field that is more than just brokering homes. 
Reasons to Study BS Real Estate Management
In such a competitive employment market, when everyone is attempting to go ahead and rise rapidly. Therefore, you may hear of people obtaining certificates and immediately beginning in entry-level positions. True, a real estate license provides some knowledge and preparation. However, if you want to fully excel in this field, you must have an entire academic real estate degree. 
The following are five reasons that make a BS Real Estate Management degree so great:  
High Demand for Real Estate Professionals

 

Salary and Job Prospects

 

Acquire Necessary Information and Legal Protection

 

A Way to Always Learning Something New

 

Assist People in Finding Their Forever Homes

 
High Demand for Real Estate Professionals
Are you worried about investing in a real estate degree? You should not be. It is a wise decision to invest in this degree. The reason is that there is a great demand for highly educated and skilled real estate agents.  
Moreover, people will always need real estate professionals and sales agents because they depend on them while looking for a home, whether it is to buy a bigger house or move for a job. Also, employers are always in search of motivated and talented professional real estate agents. They want someone who is ready to go the extra mile when property prices vary and fluctuate in line with market growth trends. And after taking the course in BS real estate management, you can be that person for them.  
Salary and Job Prospects
Whenever we choose a career, we only have one concern, "Is there any scope for it in the market?" right? So, to give you an idea of how well you can do with a real estate certificate, we have listed some job prospects for you.  
Therefore, a real estate degree will prepare you for a variety of potential occupations. Some of them are as follows: 
Brokers and Real Estate Agents 

 

Real Estate Developers

 

Appraisers and Assessors

 

Property Managers

 
However, the salary for these roles will vary based on various factors. It depends on your education, level of skill, degree, and experience. 
Acquire Necessary Information and Legal Protection
You must keep up with best practices if you operate in real estate. And this especially refers to those relevant to the legality of brokering transactions and purchases. In addition, as the person in charge of managing these deals, you need to know how to keep yourself, your customer, and the firm you work for out of a lawsuit. So, property law and taxes are vital topics to study as part of your real estate degree. 
It is believed that the field of property management is one of the most difficult. You must be thinking, why? because it demands experience in every other real estate sector as well as in entitlements, land use, community partnerships, construction, and finance. Your BS Real Estate Management degree will give you the core knowledge you need to enter any real estate field. 
A Way to Always Learning Something New
The real estate team is transforming with time. They are utilizing cutting-edge social media marketing and advertising techniques. Moreover, they are altering how real estate is done by making use of drones to create sales films and include their pets and kids in the footage. To summarize, you will never be bored or stop learning in this business. 
As a real estate agent, you might work independently, create your own schedule, choose how to manage your time and objectives, and even work from home. 
Assist People in Finding Their Forever Homes
Working in property investment can be one of the most rewarding professions available. You can become an expert in an essential sector of the world of sales and transactions. In addition, you are the person most able to assist people in choosing their forever homes. 
Purchasing and selling property is often one of the most stressful experiences. However, as a real estate agent, you can serve on the front lines. Also, you will be supporting customers every step of the way through this difficult process. Consequently, people will look to you for advice when they make life-changing decisions regarding purchasing or selling a property. 
UCP for BS Real Estate Management
A BS Real Estate Management is a fulfilling, fun, gratifying, and practical employment option. Every day, people and companies buy, sell, and rent a property. In addition, they require well-educated, outgoing experts to assist them in accomplishing their goals. 
Moreover, taking this program at the University of Central Punjab will prepare you according to market demands. Moreover, you will be studying under the supervision of our world-class faculty. Not only this, but you will have more opportunities for self-development. So, if you want to be a real estate practitioner, you can get a degree in BS real estate management at UCP.  
For more information, you can always reach out to us at infor@ucp.edu.pk