Why Demand for BS Business Analytics Grads is Soaring in Tech-First Business Setups?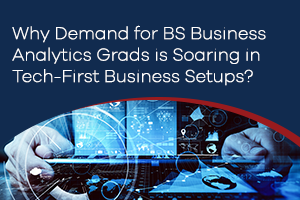 The BS Business Analytics program prepares students to apply data and models to serious business challenges in order to make the most effective business decisions.  
The program combines business knowledge, big data analytical tools, statistical approaches, and artificial intelligence (AI) to solve real-world business problems. As a business analytics student, you will collect and analyze data and draw on computer technology, statistics, applied mathematics, and machine learning approaches to better understand business situations.  
What is Business Analytics?
Business analytics is the practice of using data to determine where and how a business could perform better. It includes evaluating what a business needs to perform properly and where it needs to improve. And then striving to implement solutions like streamlining operations, modifying policies, or adopting new technologies. 
Categories of Business Analytics:
There are three major types of business analytics. These are as follows: 
Descriptive Analytics

 

Predictive Analytics

 

Prescriptive Analytics

 
1. Descriptive Analytics
This category of analytics is used to identify a company's past business trends. By studying these trends, you will learn to evaluate the impact they cause on the company based on specific variables.  
2. Predictive Analytics
Predictive analytics is used on a company's previous business data to assist in predicting future outcomes based on particular criteria. 
3. Prescriptive Analytics
Prescriptive analytics can help you during the time of making decisions by providing useful information. This category of BS business analytics provides insights predicting certain future events, showing both when and why they will occur by combining descriptive and predictive analytics. 
The Importance of Business Analytics
The basic goal of any business is to provide high-quality services and products to all of its consumers. This is only possible if the company remains relevant and stays ahead of its competition. Most businesses are continuously upgrading their methods for conducting business. They are abandoning traditional, time-consuming procedures or, better yet, redesigning them to meet new business demands.  
Thus, as procedures evolve, so does the amount of data generated. Companies have massive data sets at their disposal, and their businesses can thrive if they utilize this data correctly. Otherwise, a single mistake could result in a business's immediate closure. 
That is why analytics is essential. It increases a company's agility by helping in making informed decisions. As you know, business decisions cannot be made solely by technology or machines.  
So, to make things work in the company's favour, it needs human brains with substantial knowledge and skill sets. And this is where BS business analytics will assist in accomplishing professional goals. So, we can say that: 
Because business analytics is a procedure that assists in affecting how the entire organization operates. As a result, it can assist in improving profitability, revenue, market share, and return on investment.

 
Business analytics has an impact on the operational effectiveness of numerous departments. It does so by assisting in a more thorough understanding and interpretation of the available structured and unstructured data.

 
It helps different companies gain an edge over their competitors. How? Through business analytics, companies get insights into what their consumers are looking for and what their demands are. Thus, the business analysts plan accordingly and assist the companies to have a competitive edge. 

 
The scope of Business Analytics 
If you are thinking about whether you should opt for BS business analytics for your bachelor's or not, then we would suggest you should. The demand for business analysts has increased over the years, especially after the COVID-19 pandemic.  
During the pandemic, the business world collapsed, and companies had to sustain their growth by working remotely. Thus, they needed business analysts more than ever. As a result, the BS business analytic scope expanded drastically.  
So, after completing your degree in business analytics from the University of Central Punjab, you will be prepared to work as: 
Operations Research Analyst

 

Computer System Analyst

 

Computer and Information System Manager

 

Market Research Analyst

 

Process Analyst

 

Management Analyst

 

Consultant

 
Operations Research Analyst
You will use advanced mathematical tools and analytical approaches to help your company find solutions to complex business problems.  
Computer System Analyst
Computer systems analysts are in charge of evaluating an organization's computer systems in order to identify ways to improve its efficiency and effectiveness. So, as a computer system analyst, you will be: 
Using systems analysis to handle complicated information systems tasks.

 

Creating business intelligence solutions to fulfill an organization's objectives.

 

Processing complex data to assist in analytical business decisions.

 
Computer and Information System Manager
You will have a very essential and highly technical role as a computer and information systems manager in planning, coordinating, and directing computer-related activities within a business. 
Market Research Analyst
Market research experts gather and analyze consumer and market trend data and information. So, as a market research analyst, you will assist your company in understanding insights that will promote product and service sales by conducting quantitative or qualitative research. 
Process Analyst
This position entails enhancing business performance and operations through strategic analysis. You will be able to evaluate internal processes and create strategies to promote improvement while collaborating with business and IT departments. 
Management Analyst
Management analysts are typically hired on a consulting basis to assist firms in improving or managing difficulties. They gather and analyze data, then use the results to offer solutions that will increase performance, boost efficiency, or assist with organizational processes. 
Consultant
As a business consultant, you will collaborate with businesses to address a particular issue and operate on a contractual basis. However, these consultants typically specialize in a specific area of a company, such as human resources or marketing, and strive to asses and improve operations. 
Where Can You Work with a BS Business Analytics Degree?
Because of the high BS business analytics scope, you can work in a wide variety of industries. In addition, you can choose to specialize in a particular field like marketing or banking. With a business analytics degree, you will have numerous possibilities available.  
For example, you can work in the following industries: 
Specialist business analysis firms

 

Consulting and professional services companies

 

Public sector organizations

 

Technology companies

 

Research firms

 

Larger organizations with in-house analysts

 
The Future of Business Analytics
Business analytics has a bright future, and people interested in pursuing a career in this field are in for a ride of a lifetime. This implies that the demand for such professionals will increase as well. 
As new-age businesses are running in a world full of social media updates and news, they receive a great deal of information about their customers or potential clients. All data items that arrive at their door, whether from formal or informal sources, must be turned into information that you can utilize to make decisions. Data is currently the most important component of a company's business strategy and long-term goals. 
So, understanding data, creating models, using tools, interpreting outcomes, and making well-informed decisions have all become personal differentiators for job seekers. Thus, there is no question that business analytics has become an immensely powerful resource for making decisions that drive employee and organizational performance. 
That is why the demand will increase for business analytics managers with the insights and skills to drive data-based projects, enhance processes, uncover opportunities, and solve challenging problems as businesses extend their analytics to harness the value of complex and rapidly rising data sets. 
So, choosing a career in this field will not be a bad decision as growth opportunities are high and there is a wide range of industries you can work in.  
The Best University for BS Business Analytics 
There are many universities that offer bachelor's programs in business analytics in Lahore. However, the best institute to get a degree in BS business analytics is the University of Central Punjab. Why? 
UCP has the best faculty in town that will be teaching and guiding you throughout your educational journey. You will have access to modern libraries and state-of-the-art computer labs to get better practical exposure. In addition, you will have multiple opportunities for self-development as there are many societies and clubs that you can join and explore your hidden talents.  
Not only this, UCP is the best university for BS business analytics because you will be studying all the required subjects that you need to be fully prepared for practical life. Some of the major subjects are: 
Basic Mathematics

 

Principles of Economics

 

Business Statistics

 

Information Systems and Modern World

 

Fundamentals of Marketing

 

Financial Management

 

Human Resource Management

 

Business Database Strategy 

 

Data Mining

 

Business Intelligence

 

Data Analysis Techniques

 

Artificial Intelligence

 
As a result, when you graduate, you will be ready to step into your professional life and start your career in the field of business analytics. So, choose UCP if you want to experience an unforgettable educational journey with well-balanced campus life.  
For more information, you can contact us at infor@ucp.edu.