Why is UCP the Best Institute for BS Mathematics?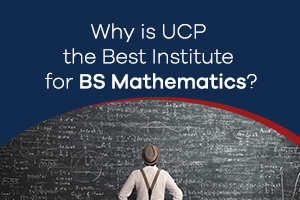 BS Mathematics is a four-year undergraduate degree program that teaches theory and gives training in both applied and core mathematics. A Bachelor of Science in Mathematics provides a comprehensive understanding of mathematics topics as well as depth in specific areas. 
If you want to pursue a career in the field of mathematics, then you should choose a well-reputed university for your BS mathematics. And what better choice do you have other than the University of Central Punjab?  
We have devised a list of key reasons why UCP is the best choice for studying mathematics. Keep reading to find out.  
Top 10 Reasons to Study BS Mathematics at UCP
We understand that mathematics is a relatively difficult subject, and you must have a thorough understanding of the techniques and concepts to pursue a career in this field. For that, you need good instructors and a university that makes your foundation in the subject strong.  
UCP takes pride in providing you with every educational facility. We ensure that when you graduate, you are equipped with everything that is required for you to excel in your professional life. Let's look at the reasons why UCP is the best university for studying BS mathematics.  
1. State-of-the-Art Campus
The UCP campus has every facility available so that you have a comfortable journey throughout. We have three buildings with parking facilities and three cafeterias where you can hang out with your friends in your free time. 
In addition, there are 173 classrooms, 6 boardrooms, a production house, a webinar room, and a sports complex, including a gymnasium and swimming pool. The security personnel are always at the campus gates to ensure your security and safety.  
2. Top-Notch Faculty
BS mathematics course will be taught by our highly professional and well-experienced faculty who have years of experience in the field. they will teach you the fundamentals of the field and prepare you for your practical life.  
3. Extensive Curriculum
We have devised the BS mathematics curriculum in a way that follows HEC guidelines and covers every important topic. The course includes all the subjects that will prepare you to practice this field as a profession. The following is the subject's list: 
Elements of Set Theory and Mathematical Logic

 

Mechanics

 

Computer Programming

 

Waves and Oscillation

 

Algebra

 

Software Packages

 

Affine and Euclidean Geometry

 

Discrete Mathematics

 

Differential Geometry & Tensor Analysis

 
And the list goes on.  
4. Modern Laboratories
We have 78 different laboratories with advanced technology and the latest equipment. These labs include computer and science labs. You will be able to utilize these modern labs for your research and final year project of BS mathematics course. As a result, you will gain knowledge and more practical exposure.  
5. Fully-Stacked Library
There is an air-conditioned library on the campus where you can study peacefully. The library has every educational resource available, including directories, encyclopedias, dictionaries, textbooks, reference books, etc. Similarly, you will have access to research databases that will help you with conducting research in the final year of your BS mathematics course.  
6. Societies and Clubs
To provide you with good campus life, we ensure you partake in healthy extracurricular activities. You will get exhausted if you only study and have no fun with it. So, there are different events and seminars arranged by societies and clubs of UCP. You can be a part of these societies and embark upon a journey of self-growth and finding your hidden talents.  
The societies and clubs of UCP that you can join while studying BS mathematics are as follows: 
Sports Club

 

Dramatics Club

 

UCP Photography Club

 

Debating Society

 

UCP Media Club

 
And so many others.  
7. Scholarships and Incentives
We believe in rewarding our hardworking students. In addition, we aim to make education accessible for everyone, as we need educated youth to help our country face the challenges of the modern world. That is why, we provide fee concessions, and different scholarships and incentives. These are as follows: 
Merit-Based Scholarship

 

Need-Based Scholarship

 

PGC Scholarship

 

Talent-Based Scholarship 

 

Sports Scholarship 

 

Legacy Scholarship

 
8. Girls' Hostel Facility
The UCP girls' hostel provides housing for out-of-town students. There are 216 residential rooms with a desk and chairs in the hostel building where you can study and get prepare for assessments and quizzes. Similarly, in addition to all the other amenities to make your stay comfortable, there is a prayer room, a kitchen, a 24/7 power supply, etc. 
So, if you decide to study BS Mathematics but you are not from Lahore, then do not worry at all. We have a hostel where you can stay comfortably.  
Get Your BS Mathematics Degree from UCP
The University of Central Punjab's Spring admissions 2023 are now open. So, if you want to take admission to BS mathematics, now is your chance to do so. For more information, you can always contact us at info@ucp.edu.pk.