With Indus Conclave, Punjab Group Aims to Build Equitable World for Future Generations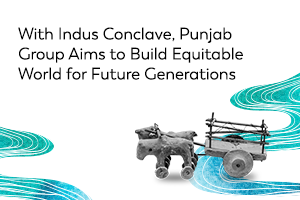 Our world is currently facing so many challenges, including the climate crisis, socio-economic problems, art and entertainment industry setbacks, etc. So, to address these issues and find solutions, The Punjab Group has decided to gather the intellectuals of the modern era on a single platform, Indus Conclave 2022, where they can share fresh ideas to change the future. 
The conference starts on October 14 and is open to the public on the 15th and 16th of October 2022. So, if you are planning to do something innovative and thought-provoking this weekend, join Indus Conclave 2022 in Alhamrah Hall, Mall Road, Lahore at 11 a.m. 
If you are wondering why it is named Indus Conclave, let us explain why. The Indus presents a body of water that has sustained the people of central and south Asia for a period of eight thousand years. And it still continues to do so. 
In addition, the term "Indus" reminds us of our common heritage. It also provides a means of livelihood for hundreds of millions of people. It holds the potential to be a vital resource in the battle against climate change for human survival and prosperity.
So, to celebrate and honour the heritage, renowned leaders and policy-makers from all around the world are invited to share their intellect at the Indus Forum. In addition, the forum will provide an opportunity for business executives, policy-makers, diplomats, journalists, academics, writers, artists, and members of civil society to discuss the issues currently affecting our world.
Furthermore, these experts will add new perspectives to the conversation, and they will have discussions about the past and how it can shape the present. The panellists will discuss anything from climate change to entertainment and everything in between. 
Additionally, this conference aims to be an enduring forum where experienced professionals and leading thinkers meet potential innovators. They share a common goal of making the world a more peaceful, equitable, and safe place for everyone who inhabits it. 
The conference includes seminars, discussions, workshops, and much more. Through these interactive sessions and exhibitions, the conference also aims to highlight and explore the literary and cultural legacy of the region. 
Thus, we can say that the Indus Forum strives to look at the problems we have encountered in the past and are facing right now from a regional perspective while looking to the future. 
Speakers at Indus Conclave 2022
The Punjab Group aims to make this world a better place. And to make it happen, we need professionals from every walk of life to gather at a place and exchange their opinions, give fresh ideas, and create solutions so that we can effectively face the challenges. 
That is why the speakers at the Indus Conclave conference are:
Business leaders

Policymakers

Diplomats

Journalists

Academics

Writers

Environmentalists

Artists
What to Expect at Indus Conclave 2022?
The expert panellists will talk about everything, including art, climate change, the entertainment industry, urban development, etc. Here's a look:
Pakistan at 75
The session features Najam Sethi, Salman Akram Raja, and Justice Nasir Iqbal. They will talk about where Pakistan stands after 75 years since independence. What are the socio-economic challenges we face and how are we dealing with them? 
Pakistan in the Digital Age
We live in a digital world now, and everything around us is driven by technology. The experts Jehan Ara, Yasser Bashir, and Danielle Sharraf will discuss the situation in Pakistan in this digital age. 
Pakistani Writing beyond Western Gaze
At Indus Conclave, Meera Sethi, Dur e Aziz Amina, and Bilal Tanveer will be with us to talk about Pakistani literature. They will discuss the essence of Pakistani writing and the western outlook on it. 
Present Situation and Future of Music in Pakistan
Natasha Noorani is a musician, manager, festival director, and ethnomusicologist from Lahore. She will be giving a presentation about the current music industry situation and its future. 
Art Exhibitions and Panels
Amad Mian, Zulfikar Ali Bhutto Jr., and Qudsia Rahim will be part of the art panels and exhibitions.
Climate Crisis Session
The professionals will discuss climate change and how it is affecting lives and the environment. 
Book Launch Event
A book called "American Fever" by Mariam Tareen will be launched at the Indus Conclave conference. 
Education and Learning
What is the educational environment in Pakistan like? What are the teaching methodologies and how important is it for future generations? Everything will be discussed in detail.
Public Health and Pandemics
Mosharraf Zaidi, Dr. Zafar Mirza, Senator Ayesha Raza Farooq, and Dr. Shahzad Ali Chauhdry will have a session about public health, pandemics and their effects, etc. 
Pakistan's Entertainment Industry Situation
There will be a conversation on the trajectory of the Pakistani entertainment industry with Mira Sethi, Vasay Chaudhry, and Kamil Chima. 
You can visit the Indus conclave on the 15th and 16th of October 2022 in Lahore to learn more about the topic of your interest.