Secure a Seat in Our Institute by Applying to UCP Admissions 2023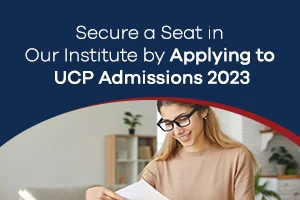 Did you hear about UCP admissions 2023? No? Let me tell you. Our undergraduate and postgraduate spring Admissions 2023 are open. Apply right away and start your educational journey here with us at the University of Central Punjab.  
UCP takes pride in having students from different cultures. We aim to produce young minds through a variety of educational, social, and athletic activities. So, you will not only acquire a top-notch education but will also have opportunities for self-growth and development.  
Why is UCP the Best Educational Institute in Lahore?
As a student, you will not only profit from the exceptional resources of a top-notch institution that has been devoted to teaching and research, but also from a team that is devoted to your ethical and intellectual well-being. And the best part is that UCP admissions 2023 are now open, so you can enroll yourself anytime now.  
Do you want to be a part of a memorable and beneficial educational journey? You can now as UCP admissions 2023 are open. Apply and get started on a memorable time of your life. Apart from these, let me tell you the top reasons that make UCP the best educational institute in Lahore.  
1. Diverse Range of Courses
One of the reasons you should be studying at UCP is that it provides you with a wide range of courses to study. There are a total of 74 undergrad and postgrad courses being offered at UCP right now. These are as follows: 
a. Bachelor's Courses:
If you want an institute for your bachelor's, then stop right here. You have reached the perfect place for your undergrad years. UCP is offering 36 undergraduate programs and you can choose the one you want to pursue as your career.  
b. Post-Graduate Courses
There are a total of 38 post graduate programs offered at UCP. However, these include 12 PhD programs. So, if you want to go for Masters' or M.Phil., UCP is the place to be. Similarly, if you want to do PhD, you can enroll yourself now in our postgraduate courses, as UCP admissions 2023 are now open.  
2. Expert Faculty
We take pride in having the most competent and qualified faculty at our campus including 16 international faculty members. Whether you want to study for a bachelor's or go for a PhD, our faculty is experienced in training and equipping you with the knowledge and skills that are required for a successful career. In addition, we have 165 PhD faculty members.  
3. Student-Teacher Ratio
We ensure that our student-teacher ratio is 25:1. Why? That is because we want that our students get equal opportunities and do not lack behind and by feeling overcrowded in class.  
Unlike other institutes where one teacher has to manage a class of a hundred students and cannot pay attention to weak and underconfident students, our faculty incorporates advanced methodologies involving every student. This leads to developing their confidence and improving their skills overall.  
UCP admissions 2023 are now open, so apply and benefit from our faculty right now.  
4. Promotes Women Empowerment
UCP believes in empowering women and giving equal opportunities to the female gender in every aspect of life. That is why we have produced 33% of women who are now working in senior leadership roles.  
In addition, our faculty includes 43% women staff. Our female student population at the campus is 41.5%. This shows we encourage women to acquire higher education and contribute to helping our country progress.  
We also provide our female students with the facility of a girls' hostel.  So, if you are an outstation student, you can save your spot at our hostel by applying to UCP admissions 2023.  
5. World Rankings
Another reason that makes UCP the best educational institute is where it stands in the world rankings. These include: 
a. Top Asian QS Ranking
Quacquarelli Symonds (QS) publishes the QS Asia University Rankings every year. It showcases the best universities on the Asian continent. 11 indicators are used to determine the rankings. They include things like faculty-to-student ratio, employer reputation, a worldwide research network, and academic status. And UCP stands at 450 number on the QS ranking.  
b. UI GreenMetric Ranking
In 2010, Universitas Indonesia launched a ranking on green campuses and environmental sustainability called the UI GreenMetric World University Ranking. UI GreenMetric World University Rankings carefully calculated the rankings based on universities' environmental efforts and initiatives using 39 indicators and 6 parameters. And UCP stands at number 463 in UI GreenMetric Rankings.  
6. Quality Assurance Score
Another reason you should choose the University of Central Punjab is that HEC has scored our quality of education and UCP stood at 82% quality assurance rank. This ensures that we leave no stone unturned in providing you with world-class education with every required educational facility. So, apply right now to UCP admissions 2023 now.  
Apart from these, you will get a lot of opportunities for self-growth and development. In addition, you will have a vibrant and well-balanced campus life as there are 61 societies and clubs that you can join and participate in extracurricular activities.  
UCP Admissions 2023 Are Now Open!
Apply to UCP and start your journey in the spring of 2023 as UCP admissions 2023 are now open.