Everything You Need to Know About IT Scope in Pakistan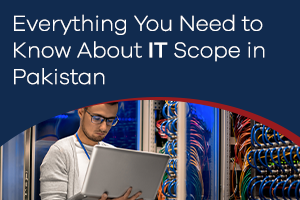 Information technology or the IT industry is constantly evolving in today's digital world. Every industry in this field is using advanced technology to complete difficult jobs effectively and quickly. As a result, there is a high IT scope in Pakistan and around the world.
The Bachelor of Science in Information Technology program is becoming increasingly popular among students. Why? That is because it gives them experience with information processing, database security and maintenance, and storage processing knowledge.
However, many students question the value of pursuing this degree despite the growing demand for IT professionals in the industry. Or is it worth pursuing?
Don't worry; we have got you covered because you are at the right place for the answers.
Do You Know the Scope of Information Technology in Pakistan?
Pakistan's digital growth is evolving at a rapid pace. IT/ITeS is one of Pakistan's fastest-growing industries, accounting for around 1% of the country's GDP, which is about 3.5 billion USD. It has more than doubled in the last four years, and experts predict that it will more than double again in the next two to four years, reaching $7 billion.
This shows that the IT scope in Pakistan is very high. It leads to numerous career opportunities for you if you are passionate about information technology and want to pursue this field as your profession.
IT Career Paths 
Understanding the many paths accessible to you might assist you in navigating your first steps when you start your career in IT.
Not sure where to begin? Well, many IT professionals begin their careers in generalist positions. After some time has passed and you have a clearer idea of what you enjoy doing, you might consider narrowing your employment options.
However, if you are just getting started, we have a whole list of career paths you can follow.
Cybersecurity
Network and Systems
Software Development
Web Development
Data
Cloud Computing
1. Cybersecurity
While working in cybersecurity, you will be required to defend electronic devices, computer systems, and confidential data from malware, unauthorized users, damage, and privacy breaches. According to Global Knowledge, cybersecurity is one of the many IT professions that will experience the most demand in the future. You can work in the following roles:
Information security analyst
Cybersecurity analyst
Cybersecurity engineer
Information security manager
Ethical hacker
2. Network and Systems
Systems IT specialists work with servers and computer systems, whereas network IT specialists deal with network-related jobs or devices. You may have overlapping responsibilities while working in the networks and systems field.
The career prospects are as follows:
Network administrator
Systems administrator
Network implementation technician
Systems analyst
Network engineer
Systems engineer
Network security engineer
Cloud network engineer
Computer network architects
3. Software Development
Your internet browser, a music streaming service, and an app for online video conferencing are all examples of software. Software developers, also known as software engineers, create computer programmes that are used to carry out a variety of functions.
Software development can lead you to careers in a variety of industries, including finance, video game development, and technology.
Software Developer
Software Engineer
4. Web Development
You will be in charge of developing and managing mobile applications and websites if you work in the discipline of web development.
As a front-end developer, you will be working on the user interfaces of a website's front end. However, as a back-end developer, your task will be to handle the website's internal workings, or both.
You can work in the following roles:
Web developer
Web designer
Front-end developer
Back-end developer
Full stack developer
Front-end engineer
Back-end engineer
Full-stack engineer
5. Data 
Businesses now have access to a record quantity of data about their clients, services, and other aspects of their operations because of the widespread use of web devices. Moreover, even though data is not a conventional IT speciality, the rise in demand for data skills makes it a viable career choice for people seeking IT-related professions.
You can work as:
Data center technician
Database administrator
Data analyst
6. Cloud Computing
Cloud computing, along with cybersecurity, was identified as the top technical area in IT with the highest need by Global Knowledge. A career in cloud technology typically includes programming on different cloud software platforms.
With a degree in information technology, you can work in the cloud computing field as follows:
Cloud engineer
Cloud computing programmer
Cloud Architect
Cloud consultant
Study BS IT Courses at UCP
As you have seen that the IT scope in Pakistan is expanding. So, there is an increasing demand for IT experts. That is why different institutes in Pakistan are offering IT courses. However, The University of Central Punjab takes pride in providing you with the best bachelor's programs in information technology.
The courses include:
So, you can choose to study the course of your interest and pursue your passion for working in the IT field.