Study the Best Management Sciences Programmes at UCP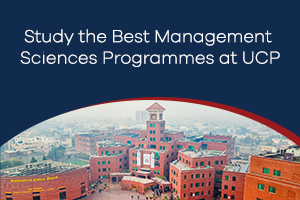 Management Sciences or Business Studies is Pakistan's third most popular field after medicine and engineering. The sole reason is the adaptability and broadness of this field with respect to the future. The Faculty of Management Sciences (FOMS) at UCP stands tall as one of the best management faculties in the country. With regular curriculum updates and having more than 25 Ph.D.s on board, FOMS is not something to miss out on if you have an interest in business studies. This article will shed light on all degree programmes and career prospects. 
Scope of Management Sciences
First, it is essential to explore the scope and adaptability of management sciences to know the benefits and future opportunities if anyone undertakes the same as a career. Therefore, read this article until the very end to know what you can achieve with a professional degree in management sciences.  
As the name discloses, the management sciences is all about the management of business, start-up, corporate, or entrepreneurial activity. In the simplest form, to analyse the problems of a business entity and to solve them while using the accurate available resources to their maximum efficiency is called management. As a result, the degree that teaches all 360-degree areas, problems, resources, and solutions is called management sciences.  
Therefore, you may specialise in any field of business as the faculty of management sciences at UCP offers all. In the scope mentioned above, we have just touched the tip of an iceberg. Details are available in the career prospects below.  
After opting for management sciences, one can initiate any of these careers. Analytics, Risk Management, Finances, Human Resources, Project Management, And Marketing Are The Major Departments In Corporate And Academics.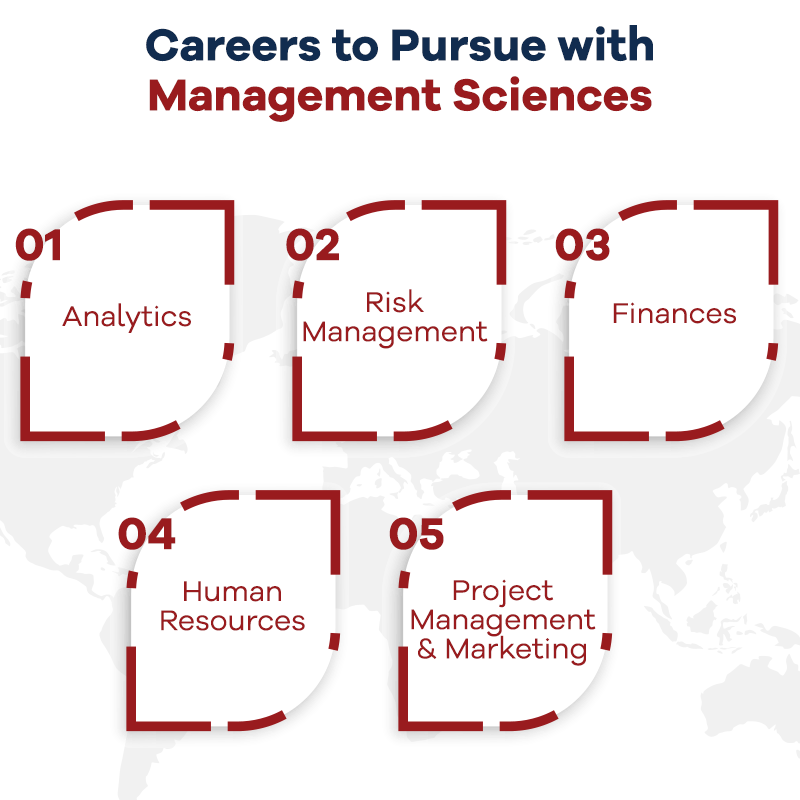 Study Professional Business Management 
In Pakistan, business startups have huge potential across various fields, including IT, marketing, production, and sales. In addition, people management is also an essential part of management sciences. As a result, it is crucial to introduce and regularly update the course content of management studies as per the international market evolves and to bring the new trends in our own country.  
Keeping this in mind and a solid part of its mission and vision, the faculty of management sciences at UCP has included and updated the degree programmes in management and business studies. A brief introduction to all these programmes is available below. 
The list of programmes offered at the Faculty of Management Sciences (FOMS) is duly available on the website. However, the details are as under. The major offering in business education at UCP is the availability of professional degrees for students on a separate basis. We cater to both our students with a business background and those without a business background.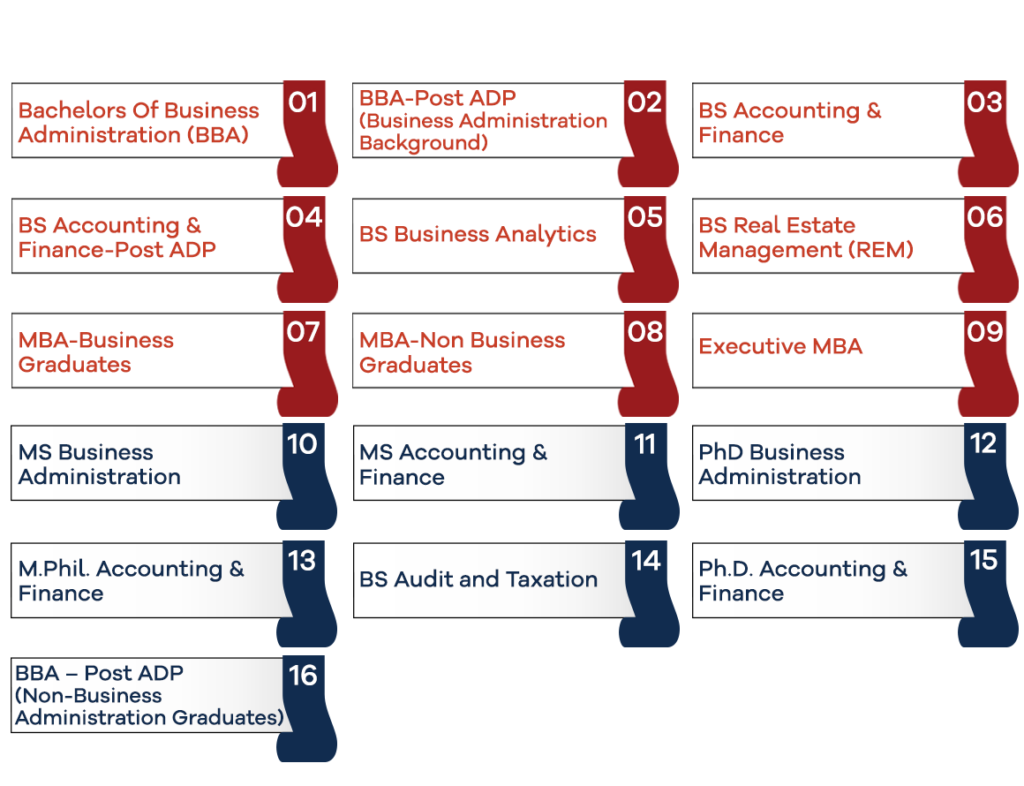 Bachelors of Business Administration (BBA) 
The Bachelors of Business Administration (BBA-Hons) is a four-year degree programme. Sub-divided into eight semesters. The programme consists of the core, compulsory, general, and elective courses during the complete degree duration. Moreover, specialisation options are also available. The elective subjects are marketing, Finance, HRM, Operations Management, and Entrepreneurship.
You can check out the curriculum and other details here.  
BBA- Post ADP Programme 
The BBA (post ADP) is exclusive for students who have cleared a two-year associate degree programme in a relevant field and want to pursue further. With electives and experienced faculty guidance, students get a complete set of skills in this degree. The criteria, course details, and other information can be seen here.   

BBA-Post ADP Programme (non-Business Students) 
Similarly, students with an ADP in any other field of business can study management sciences through BBA (Post ADP-Non Business). The students in this course are required to complete an extra semester.  

BS Accounting and Finance 
BS (Hons.) Accounting and Finance is another variation in the field of management sciences. It mainly focuses on the vast and interesting fields of accounting, finance, and calculations. It is a four-year programme. Students can also pursue the ACCA (UK) exam. Hence, students have the chance to become certified accountants and BS Hons holders together. However, the details can be read here.  

BS Accounting and Finance-Post ADP 
Just like BBA, the students can also pursue a professional degree in accounting and finance after completing a two-year ADP programme in the relevant field. BS Accounting & Finance (from the 5th semester) is open with all the benefits of this degree. Want to know more? Click here.  

BS Business Analytics 
As we have seen, the advancement of IT and analytics in recent years. Business education without analytics theories, tools, and information is incomplete. Due to this factor, we have included a four-year degree programme in business analytics. The skills you will gain during this course of studies are not only according to the future but also enable you to take the lead when it comes to the future. Course details are available here.  

BS Real Estate Management (REM) 
Here comes another customised and unique option in management sciences, which is completely suitable with respect to the domestic and international dynamics of real estate. University of Central Punjab (UCP) has included the BS in Real Estate Management in its programmes under the FOMS. The curriculum and other details are available on this link.  

BS Audit and Taxation 
BS Audit and Taxation is another variation in the four-year degree offered by the Faculty of Management Sciences at UCP. Audit and Taxation are the focus of this specialisation. More details and career prospects are available here.  

MBA- Business Graduates 
Master in Business Administration (MBA) is a graduate-level degree course for the aspirants of management sciences. It is a two-year degree programme with research and thesis requirements. More details and criteria prerequisites are available here.  
UCP also offers an MBA for non-business graduates. This MBA is tailor-made to fulfil the deficiencies of knowledge and skills among those alien to the basic concepts. However, the validity of a degree is no different from other MBAs. You can go through the details of the programmes here.  

Executive MBA 
There is no limitation on age when it comes to education. We at UCP are fully aware of this. Therefore, we have also included an executive programme for mid-career professionals who are interested in learning and updating their skill sets for the best performance and career upgrades. This degree requires 2.5 years of time. The curriculum and learning options can be found here.  

MS Business Administration 
Now, we come to the students who have earned their bachelor's in business administration for four years. If they want to continue their education further, they can opt for MS Business Administration. The management sciences at UCP have all the students addressed in the most curated and professional manner.  
The course details and adaptability options can be seen here.  

MS Accounting & Finance 
After you complete your BS in Accounting and Finance and are interested in further learning, The best option is the MS Accounting and Finance for you. This degree will open direct access to the Ph.D. if you are keen on advanced learning. The prerequisites for admission and course plan are available here.  

MPhil Accounting & Finance 
If you want to complete 18 years of education in Accounting and Finance but are not interested in thesis and research work, you can opt for four additional courses instead of research work. The degree programme would be called MPhil Accounting and Finance. More details are available here.  

PhD Business Administration 
Doctorate is the prime level of education in Pakistan. Management Sciences is such an advanced and ever-growing line that research and development is always on the go. Therefore, you can pursue a Ph.D. Business Administration in your city of Lahore with the best of facilities.  After completing a Ph.D. in Business Administration, one can enter the research and academics on national and international levels. You can learn about the course programme here.   

PhD Accounting & Finance 
If you have a knack for research in Accounting and Finance, you should go for a Ph.D. in Accounting and Finance. UCP offers the same programme with six graduate courses and a research thesis. The admission criteria and other requirements are available for consideration.  

Enrol Today; Lead the Business Tomorrow! 
It is your golden chance until your required degree programme's last Management Sciences seat is available.  Fall Admissions are Open!

Online Application Processing 
Therefore, apply today as Fall Admissions 2023 at UCP are on the roll and won't last longer. Don't miss the chance; the entire admission process is available through the online admission portal. 

Conclusion 
Management Sciences is the future. It is the nervous system of entities. Hence, if you want to handle the corporate tomorrow, make a wise decision today.